Get a Sneak Peek of the Sizzling 'Kiss the Girl' Musical Number from Disney's Highly-Anticipated 'The Little Mermaid' Remake
The film hits theaters later this month.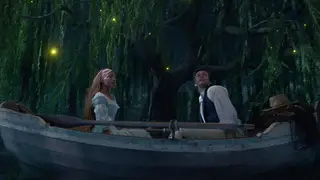 Movie fans awaiting the release of the live-action CGI remake of The Little Mermaid, starring actress and singer Halle Bailey were treated to a surprise glimpse of the "Kiss the Girl" musical number in the upcoming film during the pre-recorded airing of the 2023 MTV Movie & TV Awards on Sunday, May 7.
In the clip, Sebastian, voiced by actor Jacob Tremblay, is heard crooning in the background, insisting that Prince Eric "kiss the girl," while Flounder, voiced by Daveed Diggs, takes the lead in a glowing magical underwater show. However, they are unsuccessful after Ursula capsizes the boat carrying the couple.
As some may remember, in the scene, a voiceless Ariel, played by Bailey, attempts to get a kiss from her love interest Eric, portrayed by actor Jonah Hauer-King, with hopes of undoing Ursula's spell and regaining her beautiful voice and living with the prince in his world as a human.
In an interview with Vanity Fair, Disney composing legend Alan Menken revealed that some of the lyrics to the Academy Award-nominated song had been modified to align with a more modern view on severe topics like consent.
"There are some lyric changes in 'Kiss the Girl' because people have gotten very sensitive about the idea that [Prince Eric] would, in any way, force himself on [Ariel]," the songwriter told the outlet.
"We have some revisions in 'Poor Unfortunate Souls' regarding lines that might make young girls somehow feel that they shouldn't speak out of turn, even though Ursula is clearly manipulating Ariel to give up her voice," Menken also noted.
The Little Mermaid hits theaters May 26 but catch the sneak peek clip down below.