Watch: Michelle Obama Opens Up To Oprah About Her Fears Surrounding A Trump Presidency
"Now we're feeling what not having hope feels like."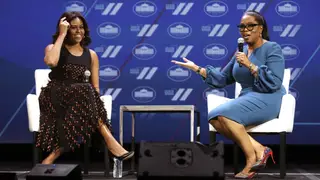 In her final interview in the White House, First Lady Michelle Obama sat down with Oprah Winfrey to discuss her husband's legacy and the future for the country. 
When asked about the concept of hope — which was a central theme for Barack Obama's candidacy — Michelle Obama opened up about how genuinely they believed the ideal. The first lady then went on to explain that we will see in retrospect how hopeful the Obamas were, especially facing a new president that does not share the same sentiment.
"Hope is necessary. It's a necessary concept and Barack didn't just talk about hope because he thought it was just a nice slogan to get votes," Michelle Obama said to Oprah in a clip broadcast on CBS This Morning. "He and I and so many believe that — what else do you have if you don't have hope? What do you give your kids if you can't give them hope?"
Although the interview will not air until next week, the CBS clip already has people buzzing

The first lady also discussed how race still has too much influence on the perceptions of people

Michelle Obama and her husband believe that skin color should be the last thing to define us as people. Hopefully the eloquent words of the first lady will make their way to our next president, who could benefit from hearing them.