Family Of Imprisoned 'Hotel Rwanda' Hero Sues Rwandan Government
Paul Rusesabagina, praised globally for protecting scores of people in the 1994 Rwandan genocide, is accused of terrorist involvement.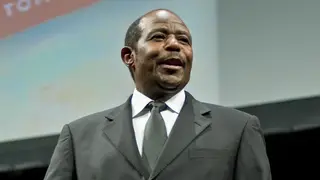 The family of Paul Rusesabagina, made famous by the film Hotel Rwanda which told the story of him rescuing hundreds of people during the 1994 Rwandan genocide, sued the Rwandan government over his abduction and alleged torture and illegal imprisonment, NPR reported on May 1.
In August 2020, Rwandan officials orchestrated the abduction of Rusesabagina, 67, in Dubai. A Rwandan court found the political dissident guilty of terrorism and sentenced him in September to 25 years in prison.
Rusesabagina, a U.S. permanent resident, has Belgian citizenship. Human rights groups have denounced his trial as "flawed."
The lawsuit, which seeks $400 million, says Rwandan officials admitted to conducting a scheme to lure Rusesabagina from his home in San Antonio, Texas "with the false promises of contractual work in Burundi."
While traveling to Burundi in August 2020, Rwandan President Paul Kagame's security agents drugged Rusesabagina during a layover and took him back to Rwanda where he was tortured and illegally imprisoned, the lawsuit alleges.
According to the family, Kagame targeted Rusesabagina because he publicly accused Rwanda's longtime president of war crimes and human rights violations.
From exile in Belgium, Rusesabagina led a political opposition that had an armed wing named the National Liberation Front (FLN), according to the BBC. Rusesabagina called for regime change in a 2018 video message, saying that "the time has come for us to use any means possible to bring about change in Rwanda."
FLN had allegedly carried out attacks that year that killed nine people. Rusesabagina admitted to financially supporting the group but denied involvement in targeting civilians.
U.S. government officials and human rights organizations have condemned Rusesabagina's conviction.
"The reported lack of fair trial guarantees calls into question the fairness of the verdict," the U.S. State Department said, pointing to concerns about violated due process guarantees including the "lack of confidential, unimpeded access to his lawyers and relevant case documents and his initial lack of access to counsel."
Human Rights Watch stated, "The conviction of the Rwandan critic and political opponent Paul Rusesabagina comes after a flawed trial that is emblematic of the government's overreach and manipulation of the justice system."
In 1994, Rusesabagina managed a luxury hotel in the capital city Kigali when ethnic Hutus went on a rampage and slaughtered an estimated 800,000 ethnic Tutsis. He turned the hotel into a refuge for Tutsis and moderate Hutus, saving more than 1,200 lives. The story was depicted in the 2004 film Hotel Rwanda, with actor Don Cheadle, portraying Rusesabagina