Exclusive Photos: Naturi Naughton-Lewis Welcomes Baby Boy With Husband Xavier 'Two' Lewis
The little one was born May 27.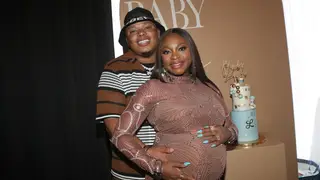 Congratulations are in order for Naturi Naughton-Lewis, who is now the mom of a baby boy! The proud mom marked the arrival of her new son in a sweet photo.
Naughton-Lewis and her husband, Xavier "Two" Lewis, exclusively shared the first photos featuring their son, who has the same middle name as his father. "Welcome to the world, our beautiful prince: Tru Xavier Naughton Lewis! "We are so blessed ❤️."
In one photo, baby Tru's tiny fingers are seen as Naughton cradles his hand. The other photo features his feet.
The Power alum, 38, welcomed the adorable newborn on May 27, weighing 6 lbs., 12 ounces, and 20 inches long.
As little Tru marks his arrival as the first child between Naughton-Lewis and Lewis, their family is now a party of four, including Naughton-Lewis' daughter Zuri, 5, from a previous relationship.
In light of Lewis becoming a first-time father, Naughton-Lewis was inspired to ensure her husband's journey to fatherhood was sealed with purpose and preparation. "We look forward to bonding in a new way. This is Two's first baby, so he's extra excited to create another human," Naughton-Lewis told PEOPLE. "We want to push ourselves to be the best partners and the best parents we can be!"
To welcome her second child, Naughton-Lewis sought the help of a doula and read material on pregnancy and motherhood, as reported by the outlet. "I am looking forward to seeing this baby's cute little face and how it will be the perfect blend between my husband and me," she says.
Another member of the Naughton-Lewis family who is excited about baby Xavier is Naughton-Lewis' daughter Zuri who is now a big sister. The former 3LW singer told the outlet that Zuri was looking forward to having a baby brother. "My daughter is especially happy to be getting a younger sibling, so I'm excited to share this joy as a family."
Naughton-Lewis first learned of her pregnancy while on the set of a movie and decided to surprise Lewis unforgettably with her growing bun in the oven. "When I found out, I was shooting a movie and still on a high from my wedding, so it felt like the perfect way to start a new chapter with my hubby! I wrapped my two pregnancy tests in pretty tissue paper and put it in a cute little gift bag and told him I had a belated birthday gift for him," Naughton says. "It was such a special moment."
The happy parents first met in 2019 after being introduced by her Power costar, Omari Hardwick who Lewis also manages. After keeping their relationship in hush mode, the couple tied the knot in 2022 in Atlanta.