Rock The Bells Recap: Hip-Hop's 50th Birthday Shined Through In A Big Way
LL Cool J and Queen Latifah brought out all the stars and even a few surprises.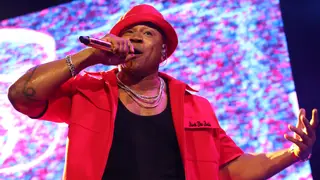 Rock The Bells is always an amazing gathering of some of the greatest talent to ever shine in the culture – but with that culture turning 50 this year – it seemed like 2023's edition had just a little more sparkle to it.
On Saturday (August 5), LL Cool J's annual festival once again went off without a hitch and helped celebrate the culture he helped push forward for decades. Taking place at Queens' Forest Hills Stadium, hip-hop fans commenced as bucket hats and Yankee fitteds were abundant, Cross Colours were present and there were even a few Pelle Pelle jean sightings amongst the crowd.
Many eras of hip-hop were represented as Swizz Beatz graced the stage in the middle of the afternoon, playing some of the classics he produced over the years including DMX's "Ruff Ryders Anthem" and Jay-Z's "Jigga My N***a," which got the crowd excited from the jump.
Subsequently, the concert's lineup jumped back into the '80s and '90s as Brand Nubian, The Original Cold Crush Bros, and Big Daddy Kane all hit the stage in succession. Prior to Rakim waxing classics like "Paid In Full," "Don't Sweat The Technique," and "My Melody," host Ed Lover paid tribute to Ralph McDaniels and Video Music Box, who gave him his start and relay the importance music videos have been to rap music since they began premiering on the TV program.
At around 6:30, the energy in the crowd increased even further as Redman and Method Man took to the stage and gave attendees another one of their legendary performances.
"Welcome to the Redman and Method Man show," the Wu-Tang Clan emcee exclaimed as the DJ began building up the beginning of the duo's set. The pair took folks through different aspects from their career, beginning with Blackout joints like "1, 2, 1, 2" before jumping into solo endeavors like Red's "Tonight's Da Night" and Meth's Tical remix and Mary J. Blige-featured "All I Need." Their set later ended with an electric performance of "Da Rockwilder."
One of the most exciting parts of the event came right after Red and Meth left the stage as Queen Latifah was revealed wearing a royal outfit (being the literal monarch of hip-hop she is) while she began rapping her verse to DJ Kay Slay's track "Living Legend." The New Jersey native then took it back to the early 90s with "Just Another Day" and "Wrath of My Madness" before surprising everyone and bringing out Big Boi and Sleepy Brown to perform OutKast's "So Fresh So Clean," "Ms. Jackson" and "I Like The Way You Move" to remind the crowd that the south still has something to say.
Latifah also took it to Jersey during the next portion of her set, bringing out Naughty By Nature for "O.P.P." and "Hip-Hop Horray," which ignited the crowd heavily made up of tri-state attendees. The performance was also notable as it was the first time the group performed together as a trio (with Treach) since 2019.
After that came the "Queens of the Mic" portion of the program as it became literally a "Ladies First" affair (along with Latifah performing the song of the same name with Monie Love). Surprise guest Rapsody hit the stage along with the introductions of Love, as well as Salt-N-Pepa, MC Lyte, Yo-Yo, Roxanne Shanté, Remy Ma, and MC Sha-Rock, the matriarch and north star to all of the women who held a mic on Saturday. Latifah's set, fittingly, ended with a goosebump-inducing rendition of "U.N.I.T.Y."
After Ludacris graced the stage with songs like "Southern Hospitality," "Yeah" and "Move B***h,"  next came Run-D.M.C. who brought a whole different energy. With Jam Master Jay's spirit watching over the Forest Hills Stadium, Rev Run and D.M.C. hit the crowd with classic after classic, performing "Rock Box," "Sucker M.C.'s," "It's Like That," "Here We Go," "Beats To The Rhyme," "Mary Mary," "King of Rock," "Run's House," "Down With the King," "Peter Piper," and closing with "My Adidas."
At around 9:15 local time, the emcee whose song title is the inspiration for the annual festival took center stage as LL Cool J appeared in an all red fit with bucket hat and one pant-leg cut off to match. Accompanied by The Roots as his live band and Black Thought playing hype man, the Hollis native didn't disappoint either as he began with the Bigger and Deffer heavyhitter "I'm Bad" before jumping all around his long catalog.
Subsequently, he trotted out "Doin' It" and then was joined on-stage by Method Man and Redman for a rendition of "4,3,2,1." that Thought rapped DMX's verse to. After that, LL went solo again, performing "Big Ole Butt," "Luv U Better" hit latest Q-Tip produced single "The FORCE," 1989's "It Gets No Rougher" and more before being joined on-stage by De La Soul's Maseo and Posdnuos for "Me Myself And I" and "A Roller Skating Jam Named Saturdays." Trugoy certainly approved while looking down.
LL later closed out the night with "Mama Said Knock You Out." Rock The Bells 2023 was one for the ages and proof that the past 50 years of hip-hop were nothing short of amazing. Here's to the next half century blessing us with spectacular music, dancing, art and creativity in abundance.