Vanessa Simmons Launches U4ia to Bridge Beauty and Mental Health
Her goal is to "make the worlds of beauty and self-care accessible to everyone."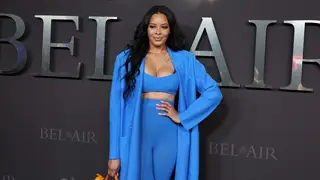 Vanessa Simmons is using her personal experiences to advocate for change in the beauty industry.
In an interview with PopSugar, the eldest heir of  iconic rapper Rev Run and Justine Simmons talked about her latest brand U4ia —an online hub for beauty, wellness, and mental health—and how she hopes it will help Black brands get the attention it deserves.
For Simmons, the company originated in response to the lack of representation she experienced during her beauty pageant days. "Today, a lot of people have someone do their makeup for them in the pageantry space, but I had to learn to do it all myself."
She continued, "With this brand, I wanted to make the worlds of beauty and self-care accessible to everyone."
For her, living your best life starts from within.
"To me, overall wellness is how you love on yourself. If you feel good physically and internally, then you get drastically better output in life," she told the outlet.
Simmons opted for a comprehensive approach to wellness instead of building a cosmetics line due to the oversaturation that she believes exists in the industry.
"I'm not saying there won't ever be product in the future, but right now I want to focus on education," she explained. "I've had the opportunity to work with some incredible brands like Buttah Skin and Yummy Hair, but Black-owned brands catering to individuals of color was not something that I saw growing up and is honestly still really needed."
She added, "It's really another branch of the U4ia universe that I'm trying to hone in on to really try to get people to see that these spaces are for us too."