White House Pushes Back on Claims Black Staffers Are Unhappy and Leaving
Despite a recent article White House staff turnover rates are within the expected range after a president's first year in office, officials say.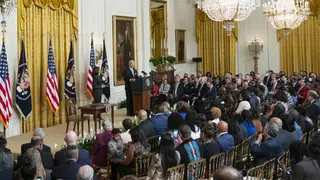 The White House says a story published on the news website Politico was misleading in discussing the exit of a number of Black staffers, saying the departures are part of a normal course rather than anything involving discord or unhappiness.
Since last fall, 21 Black White House staff have left their positions. Despite the story that these departing employees felt stifled or ineffective in their positions, more than half of the departed staffers said they were leaving for reasons other than being unhappy.
President Biden explained when he won the 2020 election  that he wanted an administration that looks like the country that he was elected to serve. As such, about 14% of White House staff are Black, according to officials there. That roughly parallels the population percentage Black Americans comprise within the United States.   

It's a common phenomenon that can be seen in nearly every presidential staff: after the first year in office staff turnover tends to happen. Donald Trump-era White House staffers far exceeded the turnover rate at the halfway point in his term than the five presidents preceding him, according to a Brookings Institute analysis. The Biden administration is apparently in line with previous presidential norms apart from Trump's.
This administration says it outstrips historical performance in how it has advanced women and Black people in the employ of the Executive Branch. In the last year, around 15% of Black employees were promoted into more senior open roles, and 33% have moved to new roles at agencies within the federal government, according to White House figures. These advancements come at higher rates than for non-diverse staff.
A White House official said a number of the former staffers went on the record, but were not quoted in the Politico story, noting that they were leaving for educational advancement opportunities, health and family issues or other government agencies. The official sent several of their remarks to BET.com.

"I've seen firsthand the opportunities for growth and advancement at the White House and know that there's not only an open line of communication with senior staff but also ongoing efforts to be solutions-oriented," said Trey Baker, who served as Senior Advisor for Public Engagement at the White House.  He expressed that in a White House where equity was a mandate, more Black people being employed would mean that Black people would leave.
Connor Maxwell, a Policy Advisor at the White House, went on record to make it clear that his was a more usual experience than those shared by an unhappy former employee or two.
Calling this White House tenure the "experience of a lifetime," he said, "since day one, my colleagues have looked for and provided me with countless opportunities to grow professionally while helping to advance the President's economic agenda. They have also moved mountains to give me the time and support I needed during multiple family health emergencies. I am leaving the White House for one reason only: to spend more time with family."
In the Politico story itself, White House Press Secretary Karine Jean-Pierre echoed those sentiments, saying that the Biden Administration had opened doors for diverse staff members.

"The president is incredibly proud to have built what continues to be the most diverse White House staff in history, and he is committed to continuing historic representation for Black staff and all communities," Jean-Pierre said. "This is a normal time for turnover across the board in any administration and Black staff have been promoted at a higher rate than staff who are not diverse."

RELATED: More Than 20 Black Staffers Leave the Biden White House, Causing Concerns of a 'Blaxit'