Georgia GOP Removes Black Democrats From County Elections Board In Apparent Power Grab
DOJ has sued Georgia over a new law that gives state Republicans voter suppression tools.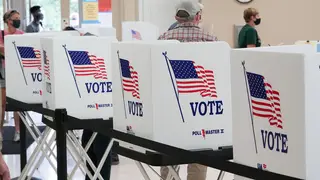 Controversial changes to Georgia's election laws have given state Republicans power over choosing members of county-level election boards, as the party prepares for the November 2022 elections that could flip the U.S. House and Senate back to GOP control, Reuters reports.
In Spalding County, the Georgia GOP purged the Democratic majority of three Black women, as well as the Black elections supervisor, from the county's board of elections, according to Reuters. They were replaced with three white Republicans, including a new chairman who supports former President Donald Trump's false claim that the 2020 election was stolen from him.
County election boards have broad authority to shape how elections operate, including early voting procedures, locations of polling stations and recounts.
The new Republican election board majority made changes that prompted protests in October. Demonstrators were outraged that the board ended early voting on Sundays for the Nov. 2 local election.
As historian Rebecca Brenner Graham explained in The Washington Post, voting on Sundays is a deep-rooted tradition in the African American community, which has been targeted for elimination as a tool of voter suppression.
Change of the board's composition stems from the passage of Senate Bill 202 earlier this year. Georgia's Republican Gov. Brian Kemp signed the measure in March that the state's GOP-dominated legislature passed.
According to GPB News, the Election Integrity Act of 2021 passed on a party-line vote, making controversial changes to the state's election laws, including county election boards, absentee ballots and early voting rules.
It prompted a strong reaction from the U.S. Department of Justice. The DOJ sued Georgia in June "to stop racially discriminatory provisions" of the law from going into effect.
"The right of all eligible citizens to vote is the central pillar of our democracy, the right from which all other rights ultimately flow," U.S. Attorney General Merrick B. Garland stated.  "This lawsuit is the first step of many we are taking to ensure that all eligible voters can cast a vote; that all lawful votes are counted; and that every voter has access to accurate information."
According to Reuters, Georgia's new voting law is part of a national GOP strategy to control oversight of elections at local levels in the aftermath of the tumultuous 2020 presidential election. GOP-dominated legislatures in Florida Texas and Arizona passed similar laws that restrict ballot access. Republicans have argued that the laws are intended to protect the integrity of elections, but Democrats say it's a veiled power grab.
In Georgia, two of the six newly overhauled county election boards have taken steps to restrict voting access, according to Reuters. That could impact the 2022 re-election campaign of Democratic Sen. Raphael Warnock, Georgia's first Black senator, as well as Stacy Abrams, who recently announced that she's running for governor of Georgia.