Rapper King Von Killed In Police-Involved Shooting
The 26-year old was involved in a tragic confrontation outside of a club in downtown Atlanta.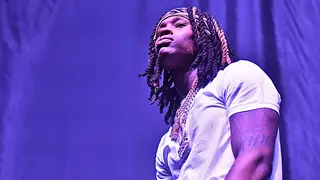 Rapper King Von has reportedly died after a confrontation that led to a shooting outside of a nightclub in Atlanta. He was 26 years old. 
News of his death was reported by the Atlanta Journal-Constitution, which said that a fight occurred outside the Monaco Hookah Lounge in downtown Atlanta on Friday (Nov 6) morning and it turned into chaos when two groups of men started arguing resulting in shooting. 
TMZ reports that two Atlanta Police officers, one who worked at the club off the clock and the other who was patrolling in the area, responded to shots fired outside of the club. Gunfire erupted between the police and the group with King Von subsequently being shot and rushed to the hospital in critical condition. He died soon afterwards and it remains unclear exactly who shot and killed him.
The news was confirmed by his DJ who posted a heartfelt message to the late rapper on his Instagram account. 
"That physical altercation escalated into an exchange of gunfire with those groups," said Atlanta police Deputy Chief Timothy Peek in a press conference at the scene. "Two police officers who were working at that particular club, or lounge, noticed the altercation and engaged some of the people involved. There was an exchange of gunfire with police as well."
Von first came to mainstream prominence with the release of 2018's "Crazy Story." He was signed to Lil Durk's Only the Family record label and had just released his third album, Welcome to the O, at the end of October. His sophomore LP, Levon James that came out in March 2020 and hit No. 10 on the US Indie Billboard chart.