Black Family Denied Service Because Of Son's 'Athletic' Clothes Files Lawsuit
Marcia Grant says an apology isn't enough.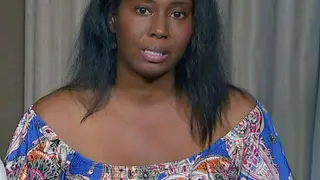 UPDATE: (June 30, 2020): The mother who was denied service at a restaurant because of her son's choice in clothing is not accepting their apology. Marcia Grant has instead filed a lawsuit against the Atlas Restaurant Group for the June 22 incident.
A restaurant manager, who is now fired, refused to serve Grant and her 9-year-old son Dallas because of his "athletic" clothes. However, there was a white child, shown on cell phone video, also wearing "athletic" clothes enjoying lunch in the establishment.
Atlas Restaurant Group apologized.
Donte Mills, Grant's attorney, told TMZ today (June 30), "An apology is not sufficient and it also misses the mark. Also, what they did is they said they changed their dress code policy. This is not about the dress code, you have the right to have a dress code. We're saying apply it evenly.
The lawyer also referenced George Floyd, saying "This is the one step before tragedy. Imagine if Marcia reacted differently and police came to the scene and something happened and now we have another hashtag."
The details of the lawsuit are not public as of yet.
Grant also said Dallas will be participating in a children's march and creating a T-shirt line in the name of social justice. 
PREVIOUS: 
Following the apology by a Baltimore restaurant, after the manager refused service to a Black woman, Marcia Grant, and her son, Dallas, because of his "athletic" clothes, the mother has retained a civil rights attorney. 
Grant and her spokesperson, Michelle Watts, told TMZ that the apology was not sufficient given the longstanding practices of discrimination at other restaraunt's owned by Atlas Restaurant Group.  
According to the Baltimore Sun, The Choptank was under fire in September 2019 for its dress code that banned "excessively baggy clothing, sunglasses after dark and bandannas." 
Watts also claims that 9-year-old son Dallas has been severely impacted. 
 Civil rights attorney Dante Mills is now representing Marcia Grant and her son Dante.
On June 22, cell phone video captured by Grant shows her attempting to get a table with her son. A manager tells them they can't be seated because her son's wardrobe violates the restaurant's dress code.
The  manager said her son's "athletic" shorts and shirt is not allowed at the restaurant. The mother panned her video over to a white kid with a similar outfit. 
The manager refused to seat the woman while also not being able to explain how the white child was allowed in.
Four days after the racist event, Atlas Restaurant Group, which owns Ouzo Bay, said they were "sickened" by the incident and added, "While dress codes across Atlas properties are the result of ongoing input from customers, in no way are they intended to be discriminatory." 
Atlas also says children under 12 accompanied by a parent will no longer be subject to a dress code and that two managers have been placed on "indefinite leave."
No official lawsuit has been filed as of yet.