Who's The G.O.A.T.? Sick Wid It vs Dangerous Crew | Round 1
In the tournament to decide the greatest rap crew of all time, this Round 1 battle is a between E-40's Sick Wid It and Too Short's Dangerous Crew.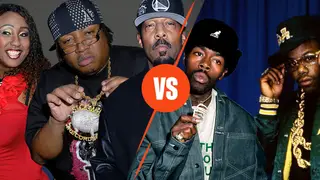 In recognition of hip hop's 50th anniversary, BET, in partnership with Ambrosia For Heads, is celebrating the culture by hosting a bracket-style competition that allows you to determine hip hop's greatest crew.
Rather than having "experts" tell you who is the greatest of all time, this is your opportunity to collectively make that decision. After giving the opportunity to any and all fans to provide feedback on which crews should be included, 32 collectives from different regions, styles, and generations have been selected—all vying for that #1 spot. When the final battle is over and the last vote is cast, you will have determined who is your Greatest Rap Crew of All Time.
E-40 and Too Short led movements out of the Bay Area dating back to the 1980s. These pioneers built their crews with standout artists who could be unique and multi-talented. In 40's case, he started with family and extended to a collective that lasted for decades. For Too Short, he assembled a squad of rappers, musicians, and producers in the Dangerous Crew who would go on to make history and hits. 40 and Short have since released two collaboration albums, including the recent Mount Westmore collective with Ice Cube and Snoop Dogg. However, despite the love and fellowship, only one of these crews can reach Round 2.
The Dangerous Crew
Producer Ant Banks was working closely with Pooh-Man and Spice before making significant contributions to "Shorty The Pimp." The Dangerous Crew showed out through multiple songs on the "Juice" and "Menace II Society" soundtracks, with career highlights from Spice-1 and stellar Ant Banks and Too Short chemistry on "So You Want To Be A Gangster." However, 1993's "Get In Where You Fit In" may be the best example of Dangerous Crew chemistry, with its funk-laden production and highlight vocal guest appearances. 
Too Short found his tribe, and it garnered praise from Rolling Stone and others. Rappin' 4-Tay would go on to a noteworthy solo career, including the Drake-inspiring "Player's Ball." Spice 1 helmed three gold albums. In 1995, a second Dangerous Crew album, "Don't Try This At Home," involved Spice and Shorty from the original lineup. In 1999, Ant Banks and Too Short scored another hit with T.W.D.Y.'s Bill Withers-sampling of "Player's Holiday." In early 2023, Too Short, Pooh-Man, Ant Banks, and others reunited for a special event in Oakland. This crew's time together can sometimes seem short—but funky.
Sick Wid It
E-40 defied conventions when he entered the rap game with a style unlike any other. 40's rhyme pockets and nasal delivery seemed designed to make his music stand out, especially when enhanced by quippy punchlines and wordplay. 
Even before establishing himself, the Vallejo, California MC secured a team of talented and unique underdogs so he could run with a pack—they just happened to be family. The Click, consisting of E-40's brother D-Shot, sister Suga-T, and cousin, B-Legit, congregated for three albums. "Game Related" earned the family quartet a gold plaque and was released the same year as E-40's platinum "Hall Of Game" album. 
Each member of The Click forayed into solo careers. At the same time, Celly Cel became a successful homegrown artist, blazing a trail for later acts like Turf Talk and Nef The Pharaoh, who extended Sick Wid It into the 2010s. 40 Water's son, Droop E, became the crew's leading producer and a reminder that this collective is a family business. Sick Wid It thrives on balancing consistency with quality—while 40 has been a sought-after feature on hits by Big Sean, G-Eazy, and Yo Gotti. 
In this celebration of hip hop and all of its talented crews, your vote decides the winner.
---
EDITOR's NOTE: Register for the sweepstakes for a chance to win the grand prize of (2) two tickets to the 2023 BET Awards,(2) two round-trip airline tickets, and a 2-night hotel stay on June 25. Up your chances to win by voting weekly.
NO PURCHASE NECESSARY TO ENTER OR WIN. VOID OUTSIDE OF THE 50 U.S. & D.C. AND WHERE PROHIBITED BY LAW. Open to legal residents of the 50 U.S. & D.C. who are 18 years of age or older at the time of entry. Ends at 12:00 p.m. ET on May 1, 2023. Official Rules: bet.com/grcoat-official-rules. Sponsor: Black Entertainment Television.