Ex-Marine Accused in Death of Jordan Neely Enters Not Guilty Plea In Controversial Case
Daniel Penny insists he was defending himself and others when he put Neely, who reportedly had a history of mental illness, in a chokehold.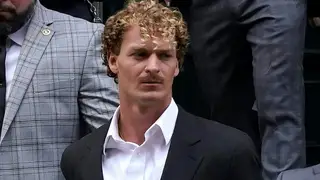 Daniel Penny, the Marine veteran who was arrested in the choking death of street performer Jordan Neely during a subway ride, pleaded not guilty on Wednesday (June 28).
Appearing with his legal team in New York State Supreme Court, Penny, 24, listened to the charges against him and entered his plea. Also in the courtroom was Neely's father, Andre Zachery, a group connected to Rev. Al Sharpton-led National Action Network, and attorneys representing Neely's family, according to local news outlet Gothamist.
"Daniel Penny stands indicted for Manslaughter after allegedly putting Jordan Neely in a deadly chokehold for several minutes until and after he stopped moving. I hope Mr. Neely's loved ones are on the path towards healing as they continue to mourn this tragic loss," Manhattan District Attorney Alvin Bragg said in a statement.
A grand jury indicted Penny on June 14 after he was arrested and charged with second-degree manslaughter in Neely's death. He maintained that he acted in self-defense and defense of other passengers.
According to reports, the 30-year-old Michael Jackson impersonator was in a subway car with Penny when he began shouting that he was hungry, thirsty, and prepared to die. Penny's lawyers said that he also threatened passengers. That's when Penny put him in a chokehold.
Penny, who served, according to Military.com, from 2017-2021 as a rifleman for the Marines, has said it was not his intention to hurt Neely, and he was not motivated by race. Another passenger, an independent journalist, took video footage of the incident and posted it to Facebook, where it went viral. The footage shows other passengers helping Penny to hold Neely down, and he went limp after a few minutes.
A medical examiner ruled his death a homicide, and a fierce debate began around racial violence and homelessness. Many called for Penny's arrest, believing he deliberately strangled Neely to death, while others found no fault with him for acting in the interests of safety.
Penny was ultimately taken into police custody and charged in Neely's death after calls for his arrest continued to grow. He is free on $100,000 bail.

Neely had a history of mental illness, dating back to his teenage years when his mother,  Christine Neely, a Bayonne, N.J., woman who was strangled to death by her boyfriend in 2007. According to The New York Post, he had post-traumatic stress disorder and had been arrested more than 42 times, including for another subway incident where he punched a 67-year-old woman.
Attorneys for Neely's family say they expect that Penny will be convicted for his death and that funds raised for him, now totaling in the millions, will not be enough to exonerate him.
"Daniel Penny killed a man. He took a life. And for everyone who thought donating $3 million would somehow make this go away, or buy his pass, it's not going to happen. It didn't work. You got to ask for a refund," attorney Donte Mills said outside the courthouse, local station NY1 reports.
But Penny's attorneys said that the right to self-defense is what would really be on trial.
"Today, Daniel Penny entered a plea of not guilty with great confidence that a jury of his peers will ultimately agree by rendering a verdict of not guilty on all counts at the trial," one of Penny's lawyers, Steve Raiser, said. "But Danny won't be the only one on trial. The right and duty to defend one another will be on trial too."
If convicted, Penny faces up to 19 years in prison.