Oklahoma Pastors Wear Hoodies During Services to Protest Proposed Bill
Religious leaders fear that the bill could intensify racial profiling.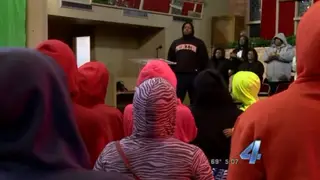 Several Oklahoma pastors and churchgoers at The Christ Experience recently made a statement against a proposed state law that could make it illegal to wear a robe, mask or "other disguise" in public, KFOR reports.
The religious leaders donned hoodies during their services to protest the bill, arguing that it could lead to an increase in racial profiling.
"Criminals use hoodies, you know it's easy, but my wife uses hoodies because it's easy to put on her head when it's raining outside," Pastor Semaj Vanzant told KFOR. The pastor believes this law was conceived "so that black people or brown people can be discriminated against when they wear hoodies."
In response to critics, State Sen. Don Barrington, the lawmaker sponsoring the bill, has said that it was designed to help make businesses and public places safer by "ensuring that people cannot conceal their identities for the purpose of crime or harassment."
Anyone found wearing a hood or another type of item hiding his identity in public would reportedly be fined $500.
"They will start profiling in all types of ways for all different people," Vanzant told KFOR.
Vanzant's fellow local leaders Rev. Jesse Jackson — unrelated to the civil rights activist — and Rev. Michael Riggs used a modern context to critique the controversial bill.
"The bill as written takes direct aim at the Guy Fawkes masks that were used as part of the Occupy movement, and it takes aim at hoodies, which became powerful symbols after the death of Trayvon Martin and as part of the 'Black Lives Matter' movement," Jackson told Religion New Service, referring to the shooting deaths of unarmed Black teens Martin and Michael Brown. 

"It doesn't prevent another Ferguson from happening in Oklahoma," Riggs told KTUL. "But it would pave the way for the next one." 

BET National News - Keep up to date with breaking news stories from around the nation, including headlines from the hip hop and entertainment world. Click here to subscribe to our newsletter. 
(Photo: KFOR News Channel 4)