Will Smith's Mom Turns 85, Dances To Whitney Houston On Her Birthday
He captured the special moment with an Instagram post.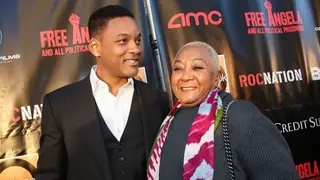 Will Smith celebrated his mother, Caroline Bright, who turned 85-years-old on Monday (Jan. 17). Taking to his Instagram, the award-winning actor shared a video of him and his mom dancing the day away to Whitney Houston's "I Wanna Dance With Somebody."
As the pair sang along to the Grammy-winning song, they swayed along before Bright showed off a smooth spin to tie together the heartfelt moment.
In his memoir Will, released in Nov. 2021, the King Richard actor shared an embarrassing story when he was 16 that involved his mother and then-girlfriend Melanie Parker. Smith revealed that Bright once caught the couple being more than intimate in the kitchen, according to Insider.
"​​As a teenager, outside of physical injury, you cannot feel worse than having your mother catch you and your girlfriend doggy-style on her kitchen floor," he shared in his memoir.
Adding, "To this day, I have no idea what I was thinking. Of all the experiences I am sharing in this book, this is the individual moment of personal behavior that makes the least sense to me."
Smith laughed about the moment when he celebrated his mother again on Mother's Day 2021 with another Instagram post.
"Happy Mommy's Day, Mommy! And Happy Mother's Day to all the Mothers of the world," he wrote. "Oh... and Mom, I'm sorry about that time when I was a senior in high school and you caught me in the kitchen with my girlfriend. But, really you should've been asleep."
In other Will Smith news, the actor won his first-ever Golden Globe for Best Actor in Motion Picture Drama at the 2020 Golden Globes on Jan. 9, for his performance in King Richard.