Eric Holder Calls For Full Reinstatement Of Tennessee State Rep. Justin Jones
The former U.S. attorney general represents the lawmaker who was recently re-elected after Republicans expelled him from office.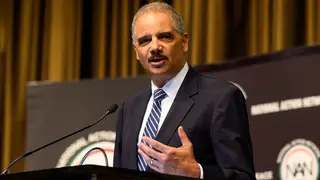 Tennessee lawmakers Justin Jones, one of the two young Black representatives controversially expelled from the state's legislature in April, has one of the nation's prominent lawyers in his corner.
The Chattanooga Times Free Press reports that former U.S. Attorney General Eric Holder, now in private practice, sent a letter to Tennessee Republican House Speaker Cameron Sexton to confirm that he will fully reinstate the Nashville Democrat to the chamber, including a return of Jones' committee assignments before the Aug. 21 special session on gun rights begins.
Republicans accused Jones and fellow Democratic representatives. Justin Pearson and Gloria Johnson, dubbed "the Tennessee Three," of leading an inappropriate protest in the House with anti-gun violence demonstrators. On April 6, the GOP-controlled chamber voted to remove Pearson and Jones from their elected office. But Johnson, who is White, survived the expulsion vote.
However, county commissioners reappointed Jones and Pearson to the House, and they won re-election on Thursday (Aug. 3) in a special election.
In the letter, dated Aug. 7, Holder requested a response from Sexton by Friday (Aug. 11).
"I appreciate receiving the letter from someone as distinguished as Eric Holder. Unfortunately, at the current time, no committee decisions have been made on special session," Sexton told The Free Press in a statement, adding that he would announce committees during the week of the special session.
In mid-April, when Jones and Pearson were temporarily reappointed to office, Sexton declined to reinstate their committee assignments because they were not "duly elected" at that time, Holder's letter noted, according to MSNBC.
Now that Jones won re-election, he should be "fully reinstated" to all rights, duties and privileges of his office, Holder wrote.
"It is critical that Representative Jones, whose voice and leadership on issues of school safety and gun control have been recognized throughout Tennessee and the nation, participate in his committees in this important debate," Holder wrote to Sexton.
"Anything less will only exacerbate the injuries this body has already inflicted on Representative Jones and his constituents by further depriving him of the rights and responsibilities to which you have already acknowledged he is entitled by his election."
Jones served on the Government Operations Committee and the Education Administration Committee, which Holder said are expected "to be central to any bills or proposed measures" in the upcoming special session.