2023 NAACP Image Awards: Angela Bassett Wins Outstanding Actress In A Drama Series
The 14-time NAACP Image Award winner sealed the victory for her role in '9-1-1.'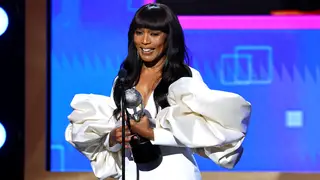 Angela Bassett won Outstanding Actress In A Drama Series at the 2023 NAACP Image Awards for her role as Athena Grant in 9-1-1.
Grant was introduced as a field sergeant for the LAPD on the first episode of the show.
Bassett, 64, has received a total of 32 nominations at the annual award show, and her Saturday (Feb. 25) victory makes it her 14th win.
Flourishing in an all-white outfit, Bassett graced the stage with humbleness, marking the award as "a deep honor."
She took a small dive back down memory lane, recalling her early days as an actress.
"Some of you may recall that when I first came to LA, I did a lot of episodic TV," she said on stage. "When Ryan Murphy (the show's writer) shared his vision and idea that he wanted me to be a part of 9-1-1, I was excited to see what it was we could do. It's been six years and we're still standing strong."
She continued to thank Murphy for "seeing me and my contribution to the show and for the show."