President Biden's Federal Student Loan Debt Relief Program Faces Crucial Hurdle At Supreme Court
The high court's decision weighs heavily on Black borrowers who carry disproportionately high student debt.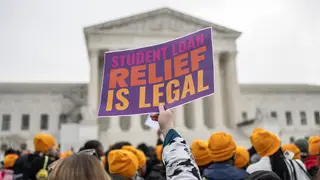 The Biden administration will finally have its day in court to defend the constitutionality of its federal student loans debt program. It would cancel up to $20,000 of debt for approximately 40 million people, including Black borrowers who are burdened with a disproportionate amount of federal student debt.
On Feb. 28, the U.S. Supreme Court, which has a 6-3 conservative majority, will hear oral arguments in two challenges to the debt relief plan that the administration launched in August.
In separate lawsuits, a group of six Republican-led states and two borrowers from Texas challenged the Biden administration's debt relief program.
CBS News reports that the justices will consider two questions: first, whether the plaintiffs have standing (the legal right) to challenge the program, and second, whether the administration exceeded its authority to wipe out some $430 billion of federal student loan debt.
The Job Creators Network Foundation, a small-business advocacy group, sued the U.S. Department of Education in October, on behalf of Myra Brown and Alexander Taylor.
Brown does not qualify for debt relief because her loans are held by commercial entities, and Taylor is eligible only for $10,000 in loan forgiveness. The lawsuit argues that the Biden administration violated federal procedures by failing to seek public input on the program.
A federal district court ruled in November that Brown and Taylor satisfied the requirements for standing and the administration lacks the authority to wipe out student loan debt.
U.S. District Judge Mark T. Pittman wrote that the program is "an unconstitutional exercise of Congress's legislative power and must be vacated."
A 2003 statute, known as the HEROES Act, underpins the administration's legal defense of the policy, USA Today reported. That law authorizes student debt forgiveness during national emergencies like the COVID-19 pandemic.
"In this case, the HEROES Act – a law to provide loan assistance to military personnel defending our nation – does not provide the executive branch clear congressional authorization to create a $400 billion student loan forgiveness program," Pittman wrote.
In November, a federal appeals court rejected the Education Department's request to put a hold on Pittman's order vacating the student loan forgiveness program.
The second lawsuit involves six conservative states — Arkansas, Iowa, Kansas, Missouri, Nebraska and South Carolina — that argued Biden lacks the authority to eliminate student loan debt. They also claimed that the program would financially harm their states.
In October, a federal district judge dismissed the case because he said they lack standing.
The appeals court focused on Missouri's state-created Higher Education Loan Authority that services federal student loans. According to the ruling, Biden's debt relief program would have a negative financial impact on the state's agency.
Impact on Black borrowers
"Because Black women exist at the intersection of two marginalized identities and experience sexism and racism at the same time, they make less money and often need to borrow more to cover the cost of attendance, and struggle significantly with repayment," Education Trust said in its report.
Some twenty groups, led by the NAACP, planned to rally in front of the Supreme Court to advocate for the cancellation of student debt. Speakers at Tuesday's demonstration were expected to include supporters of loan cancellation and borrowers whose lives have been badly impacted by student loan debt.
A decision from the Supreme Court is expected this summer.