OPINION: Naomi Osaka's Ordeal Outlines How Black Women Remain Unprotected
The tennis champion's French Open withdrawal should have brought embrace, but it was typical of responses to Black women's pain.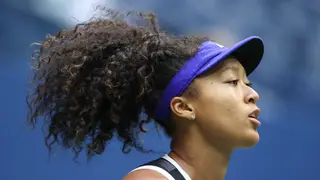 When the demons came calling, Naomi Osaka did everything right. 
She spoke up, shattering long-standing stigmas against mental health, transparently sharing with tennis officials that she did not want to participate in post-match press conferences because they were too psychologically damaging. She identified her trigger, which she would later describe as "huge waves of anxiety before I speak to the world's media." She set an appropriate boundary. She took steps to protect her peace.  
In the last two years, Osaka, a 23-year old self-described shy introvert, has become one of the biggest sports stars in the world. She is a four-time  Grand Slam singles champion, and currently holds the US Open and Australian Open titles. Over the last year her $5 million in prize money has been dwarfed by $50 million in deals off the court. She is unfailingly polite, genteel, and respectful. She is one of tennis' biggest and most marketable draws.
When Osaka took the remarkable step of asking tennis officials for compassion and understanding, her message was clear: "I'm in pain." But a Black woman's pain is unprotected, just like everything else.
The response from tennis officials was essentially, "shut up and dribble." 
She was ridiculed on social media, with the Twitter account for the French Open venue posting a since-deleted photo of players who had attended the media conferences, and the caption, "They understood the assignment." Where Osaka desperately needed an embrace, she was placed in a chokehold. Can anyone imagine an adorably blonde 23-year old Anna Kournikova pleading for compassion and being treated this way?
Black women's pain, like every other facet of our existence, is something we are expected to manage alone. It elicits contempt, not compassion. It is treated as an annoyance, or worse, a fiction. This was on full display recently when British royal Meghan Markle admitted during her interview with Oprah Winfrey that she was so deeply suicidal while pregnant with her son that she couldn't be left alone for one night. 
Public reaction largely ranged from a shrug to outright hostility. Some claimed she was lying to harm the royal family. Others blamed her for being naive about what she was getting herself into. But where was the public heartbreak over at the revelation that she wanted to end her life with her child inside her body? Where was the relief that she has now made it safely to the other side?  
When an actor performs, they are embodying someone else. When an athlete performs they are embodying their best (or worst) self, a life's worth of commitment, dedication, training, sweat and tears condensed into one moment of athleticism. Just as every athlete brings different physical skills to that moment, so too do they bring different emotional limitations.
Serena Williams -- the one woman in the world who probably understands Osaka best right now -- said, "Not everyone is the same. Everyone handles things differently." Williams went on to say, "I want to give [Osaka] a hug."
Osaka has been publicly embraced by many others as well, including NBA star Steph Curry, who tweeted: "You shouldn't ever have to make a decision like this...when the powers that be don't protect their own." 
She was able to walk away for a few very specific reasons. She has the money to afford an endless stream of fines, and tennis officials know this. She has a direct line to her fans with a social media audience of more than three million followers. And she's coming of age as part of a generation and during a time when mental health doesn't have the stigma it once did.
Still ranked the No. 2 women's singles player in the world, Osaka was able to protect herself. But she - and other Black women - shouldn't have to.
Mara Schiavocampo is a four-time Emmy Award winning journalist. She is an Investigative Correspondent for The Dr. Oz Show and co-host of the Run Tell This podcast.