Iowa Teen Who Killed Her Rapist Escapes From Custody
Pieper Lewis was homeless and sex trafficked at 15 when she fatally stabbed her rapist, but a court ordered her to pay restitution to his estate.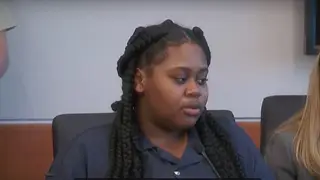 The Iowa teen who was exploited and fell victim to sex trafficking, only to kill her rapist – and later be forced to pay restitution to his family – has escaped state custody, authorities announced.

Pieper Lewis "walked away from the Fresh Start Women's Center on Friday at 6:19 a.m. after cutting off her electronic monitoring tracking device," Jerry Evans, Iowa's Fifth Judicial District Department of Corrections executive director, told CNN on Sunday. "At this time, her whereabouts are unknown."

Iowa corrections authorities announced an arrest warrant for the teenager after she escaped on Friday (Nov. 4) from a residential corrections facility.
In September, Polk County District Judge David Porter gave Lewis, 18, a deferred judgment after she pleaded guilty to voluntary manslaughter and willful injury. Under a deferred judgment a person can have their criminal record expunged after completing probation. He ordered her to serve five years probation.
After Lewis escaped from the residential facility, officials filed a probation violation report that recommends revoking her probation.
Porter also ordered Lewis to pay $150,000 to the estate of her alleged rapist. Lewis was 15 and homeless in 2020 when she fatally stabbed Zachary Brooks, 37, for allegedly raping her multiple times in the weeks leading up to the killing. Prosecutors didn't dispute that Lewis was sexually assaulted or a sex trafficking victim.
Advocates for sexual assault victims have said Lewis was victimized twice, first by her sexual abusers and then by the criminal justice system.
"We never felt like she should have been charged in the first place. She never should have spent time behind bars," KellyMarie Meek of the Iowa Coalition Against Sexual Assault said after Lewis' sentencing, KCRG reported.
"Grateful she's not in prison, but still very worried when I think about the amount of perfection and standards that she's going to be held to for the next five years under very close supervision," Meek added.