Baby Blue Posts 'Last Supper' Pics Before Turning Himself In Over PPP Loan Scam
The Pretty Ricky rapper is accused of being behind a $24 million fraud conspiracy.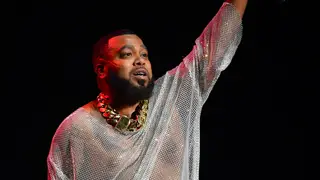 Just a week after Baby Blue announced he'll be turning himself in following a conviction relating to a COVID-19 America's Paycheck Protection Program (PPP) loan scam, the Pretty Ricky rapper chose to spend his final night as a free man at a lavish dinner with his inner circle.
In an Instagram post shared by Blue, real name Diamond Smith, shows what he's calling the "Last Supper" while gathered around his closest friends at Miami's Prime 112.
"My immediate circle of family and friends joined me in a private room at Prime 112 on South Beach Miami, FL to say there fairwells on the eve of my prison surrender," he wrote in the caption. "The night was filled with tears and laughter. I love you all. See you soon. 💙🙏🏾🤞🏾Don't forget to write."
Baby Blue was sentenced to 20 months on one count of Conspiracy to Commit Wire Fraud back in December. A week ago, he shared his address at FCI Coleman Low, a federal correctional institution in Coleman, Florida, for his fans to write him. He was alleged to be involved in the scam that netted $24 million from the Paycheck Protection Program.
In May of last year, the rapper told Hollywood Unlocked that he plans on making a Gucci Mane-like body transformation while he serves his time and will be "ripped" and one of the "hottest rappers in the world."