Come Through Philly And Atlanta! Black Twitter Shows Out After Biden Taking The Lead In Georgia And Pennsylvania
From John Lewis dancing memes to hilarious clap backs, social media is on fire.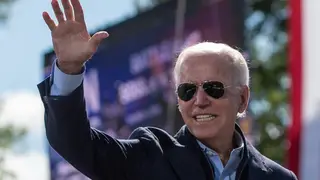 Donald Trump's path to victory appears in the 2020 U.S. presidential election seems to be quickly dissolving. Former Vice President Joe Biden now has the lead in Georgia and Pennsylvania. He also maintains a lead in Nevada and Arizona. 
In the Peach State, Biden has a lead of less than 2,000 votes but that number is expected to grow thanks to the registration efforts of Stacey Abrams' and her Fair Fight organization. After losing the gubernatorial race to Trump surrogate Brian Kemp last year she turned her pain into power by registering over 800,000 new voters.
In the Keystone State, the majority of the votes left to be counted are in Philadelphia, which Biden is reportedly winning by 70 percent or more. There are predictions that Biden's lead in his home state could reach 100,000, mainly due to Black voters in Philadelphia and the surrounding areas. 
As a result of these latest developments in the heated race to the White House, social media is hilariously on fire. From memes with the late, great John Lewis, who pushed people to vote for Biden in the final months of his life, dancing on the grave of Trump presidency and much more.