Looking Back While Marching Forward: A Decade Of Police Brutality
From #BlackLivesMatter to #SayHerName, here are the major moments and movements that shaped how we demanded police accountability in this era.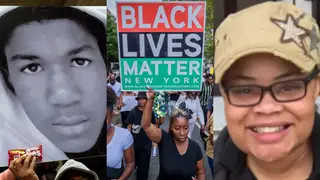 This past decade has seen a lot of progress for Black people when it comes to entertainment, sports and culture. But when it comes to policing, America can't seem to get its act together. 
This viral era observed worsening police brutality as Black civilian killings at the hands of officers made national headlines that sparked public outcry and civil unrest. 
But through all of the trauma came a new awakening in our collective activism and resilience. 
This decade witnessed the birth of #BlackLivesMatter, nuanced police accountability and a more intersectional movement. 
As we march on, closing one decade's chapter, here's a look back at the state of police brutality in Black America.
The Human Toll: More Than A Hashtag

The modern-day social justice movement as we know it began when 17-year-old Trayvon Martin was shot and killed in Sanford, Florida, by George Zimmerman, a local neighborhood watch volunteer, on the evening of February 26, 2012.

2014: Eric Garner, Michael Brown, Tamir Rice

The phrase "I can't breathe" permeated our consciousness after 43-year-old Eric Garner said it 11 times before being killed by police on July 17, 2014, due to an illegal chokehold. 

"Hands up, don't shoot" became the rallying protest battle cry after unarmed 18-year-old Michael Brown was shot and killed on August 9, 2014, by an officer named Darren Wilson in Ferguson, Missouri. 

Tensions escalated when 12-year-old Tamir Rice was killed while playing in a park by Cleveland police officer Timothy Loehmann on November 22, 2014. Loehmann claimed he mistook the boy's toy gun for an actual weapon.

2015: Walter Scott, Freddie Gray, Sandra Bland

Viral recorded police shootings hit an all-new high when footage of 50-year-old Walter Scott being shot dead on April 4, 2015, in South Carolina by a cop while running away from a traffic stop for a broken taillight was shared on social media. 

A Baltimore rising ascended after 25-year-old Freddie Gray died on April 19, 2015, a week after a spinal cord injury many suspect he sustained during a police arrest. 

As most of the headlines reported on Black men whose lives were taken by cops, #SayHerName trended worldwide following the news that 28-year-old Sandra Bland was mysteriously found dead in a Waller County, Texas, jail cell on July 13, 2015, after being pulled over by a white Texas State trooper.

2016: Alton Sterling, Philando Castile

In July of 2016, we witnessed back-to-back viral killings of two Black men that shook the nation. 

On July 5, 37-year old Alton Sterling was gunned down by cops outside a convenience store in Baton Rouge, Louisiana. 

On July 6, Philando Castile, 32, was shot dead by a cop during a traffic stop in a St. Paul, Minnesota, suburb while his young daughter was in the backseat of his car. 

2018: Stephon Clark, Jean Botham

This was the year that saw the disturbing rise of unarmed Black people being shot by cops at their residences.

On March 18, 2018, a 22-year-old father of two, Stephon Clark, was gunned down in his grandparents' south Sacramento backyard after officers allegedly mistook his cell phone for a weapon. 

Botham Jean, a 26-year old accountant, was shot and killed on September 6, 2018, in his own apartment in Dallas after white off-duty officer Amber Guyger claimed she thought his apartment unit was hers and presumed he was a burglar.  

2019: Atatiana Jefferson, Michael Dean, Cameron Lamb, Demetrius Williams

The last year of the decade was met with more investigations and questions as 28-year-old Atatiana Jefferson was in her own home playing video games with her young nephew before she was shot dead on October 12 by a white officer in Fort Worth, Texas.

Police Accountability: The Movements And Activists Fighting For Change

As we watched a triggering escalation of viral deaths of Black people by law enforcement, there was also a rise in movements and public awareness. Following the 2013 acquittal of Trayvon Martin's killer, George Zimmerman, #BlackLivesMatter was founded by Alicia Garza, Patriesse Cullors and Opal Tometi as "a Black-centered political will and movement building project." 

Throughout the decade, there would be other activists, movements and public figures that would also call for more police accountability. 

Social media activism went to new heights thanks to the ingenuity and brilliance of author, activist and advocate Feminista Jones, who created the National Moment of Silence, which was one of the first globally coordinated vigils for Black lives on social media. 

Former San Francisco 49ers quarterback Colin Kaepernick started a movement and faced a subsequent blackballing by the NFL after he chose to #TakeAKnee to protest police killing Black Americans during the national anthem.

This decade also saw Shaun King use his social media platforms to consistently bring attention to countless extrajudicial police killings across the country.

While there were various activists and movements, there were also other important public figures who helped advance the advocacy. Politically, the Congressional Black Caucus called for more police accountability as more reported incidents involving police shootings skyrocketed. 

Attorneys such as Ben Crump, S. Lee Merritt, L. Chris Stewart, Michele K. Rayner-Goolsby and Marilyn Mosby used their legal talents to defend and protect Black families who were impacted by these tragedies. 

And the Mothers of the Movement, which included several mothers of slain Black children to police shootings such as Gwen Carr, mother of Eric Garner; Sybrina Fulton, mother of Trayvon Martin; Maria Hamilton, mother of Dontre Hamilton; Lucy McBath, mother of Jordan Davis; Lezley McSpadden, mother of Michael Brown, Cleopatra Pendleton-Cowley, mother of Hadiya Pendleton, Geneva Reed-Veal, mother of Sandra Bland. These mothers helped humanize the lives of the deceased and publicly demonstrated the power of healing through grief and unity.

What's On The Agenda For 2020?

As we enter the new decade, there's clearly still more to go in the fight to hold police accountable and to protect our communities. 

Across the country, multiple grassroots organizers are rallying behind criminal justice reform efforts that go beyond just body cameras on cops and community relations, but more police decentralization altogether. 

If there was anything learned from this decade, it's that addressing police brutality is going to take a more holistic approach that gives everyone a responsibility, both civically and morally, in the fight to defend and protect Black lives.

Based in Philadelphia, Ernest Owens is an award-winning journalist and CEO of Ernest Media Empire, LLC. Chat with him on Twitter @MrErnestOwens.