Comedian Lavell Crawford Says His Father Is Gay, But It's Still 'F**king Weird' and Now 'They Trying to Get Their Own Bathrooms'
He is also afraid of the "gay mafia."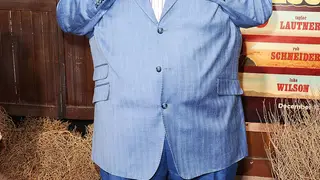 Homophobia is a problem that manifests itself in strange ways in the Black community.
In a recent interview with VLAD TV, comedian Lavell Crawford opened up about his gay father and his views on the LGBTQ community. Crawford made some offensive comments, even though it sounded like he was trying to be sympathetic.
Crawford starts off with saying that he sees gay people as just people, but then takes a quick left turn when talking about equal rights, "I touch on gay stuff, but I touch on it the way you're supposed to touch on it because I don't look at it like, the gay people, I look at it people having feelings." Then he said, "No matter how much they're getting accepted it's still f*cking weird. Now their trying to get their own bathrooms and sh*t." Adding, "It's still not the norm."
Just a note, gay people aren't asking for separate bathrooms, transgender people are asking to use the bathroom that matches their gender. Crawford also adds that his father is gay and when his dad came out to me, he was afraid a "gay switch" would turn on. He also said he was afraid of the "gay mafia."
Check out the full interview below:
Sounds like Lavell Crawford has a lot to learn about the LGBTQ community. Maybe he should check out the BET.com documentary Holler If You Hear Me: Black and Gay in the Church. Check out the doc above.