Mississippi Governor Receives Backlash For Saying It's 'A Great Day To Not Be In Jackson'
The city was under a boil-water advisory for over 40 days.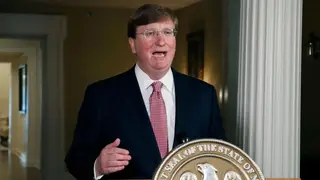 Mississippi Governor Tate Reeves is receiving backlash for recent comments about Jackson, Miss., which has been enduring a water crisis.
According to WAPT, during a Sept. 16 event in Hattiesburg, Reeves said, "I've got to tell you; it is a great day to be in Hattiesburg. It's also, as always, a great day to not be in Jackson."
He continued, "I feel like I should take off my emergency manager director hat and leave it in the car and take off my public works director hat and leave it in the car."
Reeves was slammed on social media.
Sherrilyn Ifill, a civil rights attorney and the former president of the NAACP Legal Defense Fund, tweeted, "In the most disgraceful Governor sweepstakes, Mississippi Governor Tate Reeves is a winner."
Current NAACP President Derrick Johnson tweeted, "And it'll be a great day when you're no longer governor, @tatereeves."
Mississippi native and journalist Ashton Pittman reacted with, "Mississippi Gov. Tate Reeves, belittling his own capital city that just spent more than 1.5 months without clean running water."
After over 40 days, on Sept. 16, Reeves announced the end of the boil-water advisory for Jackson residents. Jackson, a city of 431,000 people –  82.5 percent of whom are Black – has struggled with basic access to water for more than a generation. The recent flooding of the Pearl River resulted in more than 150,000 people without safe drinking water. At one point, residents were advised to shower with their mouths closed.
While President Joe Biden signed a historic Infrastructure Bill last month to assist areas like Jackson, Republican state lawmakers, like many red states with predominantly Black cities, decide where Mississippi's funds go, and Black areas are often ignored. Last week, Environmental Protection Agency (EPA) Administrator Michael Regan, met with Jackson, Miss. officials about the water crisis. Long-term goals were discussed for fixing Jackson's water system, which has been suffering for decades. However, an official plan has not been released as of yet.