Former NFL Star Frank Gore Charged With Domestic Violence In New Jersey
He was arrested at the Tropicana in Atlantic City.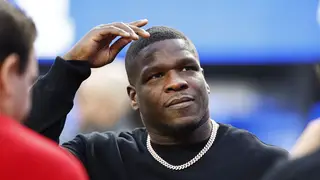 Former star NFL running back Frank Gore has been reportedly arrested and faces domestic violence charges for an alleged incident that took place last month.
According to CBS News, police say that on July 31, the former San Francisco 49ers back dragged a naked woman through a hallway at the Tropicana casino in Atlantic City, New Jersey but didn't arrest him at the time because the woman did not show any signs of injury.
"However, an ensuing investigation resulted in Franklin Gore being charged with simple assault related to the domestic violence incident," a police statement explained.
TMZ has obtained court documents revealing that Gore allegedly dragged the woman by her hair across a hotel room's hallway. The documents claim he was "violently dragging her nude person along the floor of the 59th hallway" after "forcibly" grabbing the woman by her hair.
Gore played 16 seasons in the NFL prior to becoming a professional boxer.
He is slated to make a court appearance next month.