Watch Lizzo's Mommy-And-Me Dance Off In Hotel Bathrobes
"This makes me smile."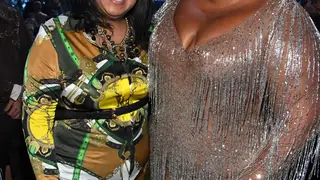 Lizzo always has time for a little family and fun, and she uploaded an Instagram video on Monday (March 2) sharing a moment with her mom. 
The award-winning singer teamed up with her mother, Shari Johnson-Jefferson to film a choreographed dance video as Trey Taylor and Armon Warren's cover of Mac Miller's "Knock Knock" played in the background.
"Been in Detroit w family. This makes me smile," the "Truth Hurts" singer captioned in her post. "Hope u smiling too."
The mother-daughter bonding moment shows the pair holding coffee cups and smiling ear to ear as they sport hotel bathrobes and towels. 
Supporting her daughter since the beginning of her career, Lizzo's mother and sister Vanessa Johnson-Jefferson run a food truck together called Taste of Lizzo that sits outside the singer's concerts. 
"We just lift her up and make sure she shines and just gives this message of love," says Vanessa. "It's really necessary these days." 
"I'm so proud of her," Shari told Access Hollywood in October 2019. "Oh my God, this has just been the greatest ride. Us being together has been the best part."