LA Hospital Sued For Racism In Death Of Black Mother
"This is sloppy. It was butchery," says the attorney for her husband Charles Johnson.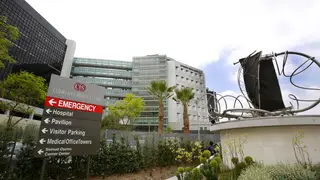 A man filed a lawsuit on May 4 that blames a culture of racism at a Los Angeles hospital for the death of his wife, who is Black, hours after giving birth in 2016, the Associated Press reports.
"There's no doubt in my mind that my wife would be here today and be here Sunday celebrating Mother's Day with her boys if she was a Caucasian woman," Charles Johnson IV stated at a news conference outside the hospital where she died.
"The reality is that on April 12, 2016, when we walked into Cedars-Sinai hospital for what we expected to be the happiest day of our lives, the greatest risk factor that Kira Dixon Johnson faced was racism."
About 12 hours after a planned cesarean section, Kira Johnson died after hospital staff delayed for hours readmitting her to the operating room despite signs of internal bleeding, the lawsuit states. During that delay, a nurse allegedly told Charles Johnson that his wife wasn't a priority.
According to Johnson's attorney Nicholas Rowley, almost 90 percent of Johnson's blood was later found in her stomach. Additionally, her bladder had been lacerated and she hadn't been sutured properly.
"This is sloppy. It was butchery," the AP quoted Rowley. "It shocked everybody that we deposed, all the health care providers, even the head of (obstetrics) here, the head of labor and delivery, looked at it and said 'No, I've never seen one done that fast.'"
The case is scheduled for trial in Los Angeles Superior Court on May 11.
Cedars-Sinai rejected the racism accusation and underscored that it has valued diversity since its founding.
"We are actively working to eradicate unconscious bias in health care and advance equity in health care more broadly. We commend Mr. Johnson for the attention he has brought to the important issue of racial disparities in maternal outcomes," the hospital stated, according to the AP.
Since his wife's death, Johnson has become an advocate for reducing the racial disparity in maternal mortality. In 2020, the maternal mortality rate for Black women was 2.9 times the rate for white women, according to the CDC. He has advocated for federal and state legislation to address the disparity, including a California law that requires doctors and nurses to identify implicit bias at work.