Bring That Week Back: Justice For Tyre Nichols, Lauren London's Fake Kiss, And Gucci Mane And Keyshia Ka'oir Welcome Their Second Child
Plus, LeBron James and attorney Benjamin Crump make history.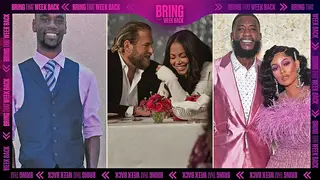 As Black History Month moves ahead, Black history is being made, from LeBron James on the basketball court to attorney Benjamin Crump in academia. However, in between the good news, the fight for justice is ongoing. In case you missed it, here is this week's Bring That Week Back.
Gucci Mane and Keyshia Ka'oir Davis Welcome Iceland Ka'oir Davis

On Feb. 8, Gucci Mane and Keyshia Ka'oir Davis welcomed their second child together. They announced the birth of their daughter via Instagram and revealed their baby girl's name: Iceland Ka'oir Davis. See the adorable photo above.

LeBron James Makes History

On Feb. 7, LeBron James surpassed legendary center Kareem Abdul-Jabbar as the NBA's all-time leading scorer. NBA.com reports that James sank a 21-foot turnaround shot in the third period against the visiting Oklahoma City Thunder, scoring his 38,388th point, passing a mark the Abdul-Jabbar, a six-time MVP, held for 39 years. See the now iconic shot above.

Leonard Taylor Executed

On Feb. 7, the state of Missouri executed Leonard "Raheem"Taylor, despite calls from activists and the NAACP to stop the execution. In 2008, Taylor, 58, was convicted of killing his girlfriend, Angela Rowe, and her three children in 2004, but he maintained his innocence. Taylor insisted he was in California at the time of the murders. No weapon was found and there were no eyewitnesses. A neighbor and Rowe's sister said that saw her alive after Taylor left for California. St. Louis prosecutor Wesley Bell said there wasn't a "credible case of innocence." Kent Gipson, Taylor's lawyer of 11 years, said, attorney Kent Gipson said "it was a scientific impossibility" that Taylor committed the quadruple murder. This is the state's 3rd execution in 3 months.

St. Thomas University Names Law School After Attorney Benjamin L. Crump

On Feb. 8, the College of Law at St. Thomas University in Miami, Florida, was named Benjamin L. Crump College of Law. It is the first law school in the country named after a practicing Black attorney. The only other law school named after a Black person is Thurgood Marshall School of Law, in honor of Supreme Court Justice Thurgood Marshall. Attorney Crump said in a statement, "It is a privilege to be a part of the St. Thomas University legacy through the Benjamin L. Crump College of Law. We have come such a long way in the journey to equality, but we are not there yet."

Fake Kiss Between Lauren London and Jonah Hill?

The romantic comedy You People is a huge hit on Netflix. The movie stars Lauren London and Jonah Hill in an interracial romance. However,  according to co-star Andrew Schulz on his podcast The Brilliant Idiots, their final kiss during a wedding scene was CGI. That said, it was supposedly a CGI kiss due to COVID restrictions at the time of filming, the Los Angeles Times reports.

Damar Hamlin Will Play Football Again, According To Doctors

'Black Panther: Wakanda Forever' Makes History

Black Panther: Wakanda Forever is the most-watched Marvel premiere on Disney+ after premiering on the streamer on Feb. 1, according to the studio, the number of hours streamed in its first five days on the platform was the determining factor. The Black Panther sequel was released in theaters on Nov. 11, 2022, and stars Queen Ramonda (Angela Bassett), Shuri (Letitia Wright), M'Baku (Winston Duke), Okoye (Danai Gurira), and the Dora Milaje fight to protect their nation from intervening world powers in the wake of King T'Challa's death.

Justice For Tyre Nichols

According to City Attorney Jennifer Sink, seven additional officers are under investigation for the brutal beating of Tyre Nichols. Sink did not reveal the names of the seven officers or say whether or not they will be terminated. However, a total of 13 officers are now facing discipline.  The 29-year-old father died three days after a Jan. 7 traffic stop. Earlier this week, Memphis Mayor Jim Strickland revealed the U.S. Justice Department will conduct an independent, external review of the Memphis Police Department.

Officer In Patrick Lyoya Killing Requests For Wrongful Death Suit To Be Dismissed Under Qualified Immunity

Christopher Schurr, the officer involved in the death of  26-year-old African immigrant Patrick Lyoya, is asking for a wrongful death suit to be dismissed under qualified immunity, According to Grand Rapids, Mich., station WOOD, Schurr's attorneys argued in a court filing that he is protected by qualified immunity, which shields law enforcement and government officials from civil liability when carrying out their duties. Schurr, who is white, pulled over Lyoya on April 4 for having a license plate that didn't match the car he was driving. The incident ended in Lyoya being shot in the back of the head. Lyoya's family's attorneys are expected to oppose the dismissal of the wrongful death; they have until March 6 to respond.