Blac Chyna Knocked On Backside During Celebrity Boxing Match
Alysia Magen chinned the reality star before the match was declared a draw in Florida.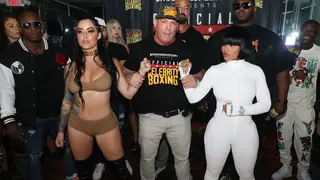 Blac Chyna ended up on her backside during a celebrity boxing match.
According to DailyMail, the reality star went head-to-head against fitness model, Alysia Magen on Saturday (June 11) at Charles F. Dodge Center in Pembroke Hines, Florida. However, Chyna was not pleased when the match was declared a draw.
Following the judgement, both stars called it "bulls**t, with Chyna also stating, "maybe they should check the scores again!" The small crowd in attendance simultaneously booed the judgment.
When they were both asked by the ring girl if they would like a rematch, they both starred uninterested at her.
One day ahead of the event (June 10), Chyna and Alysia met face-to-face for the weigh-in, where Chyna demanded that Alysia doesn't do any "sneak dissing." Alysia replied, "Hey, I'm not Kim Kardashian, I'm gonna knock you both out," before Chyna pushed her.
The Kardashians are a clear sore spot for Chyna, having loss a $100 million lawsuit claiming the family defamed her and conspired to dismantle her reality show (Rob and Chyna).
Ironically, Chyna's trainer for the exhibition was Tamara Frapasella, who beat Kim Kardashian in a 2009 boxing match.
Chyna, 34, told PageSIX, training with Frapasella has been "amazing." Unfortunately, the results of the June 11 fight were not to her liking.