Folks Are Saying Cynthia Bailey's 'RHOA' Relationship Is All A Big Scam To Secure Her Peach
What's good with her bae Will Jones?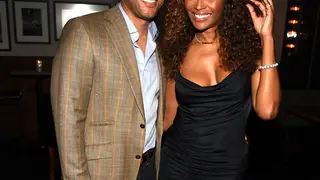 The current season of the Real Housewives of Atlanta isn't just focusing on the drama brewing amongst the cast members — there are a bunch of new men in the mix. Notably, the new post-divorce romance brewing between longtime Housewife Cynthia Bailey and a fine zaddy named Will Jones. However, recent reports are indicating that her new relationship may not quite be what it seems.

Get more Real Housewives news with BET Breaks, above.

According to Radar Online, Kandi Burruss may have been onto something when she questioned Cynthia's new boo Will Jones' intentions during the last episode of the reality series, as a source has claimed that their relationship was "all for show."
"No one signed an appearance release faster than Will," the insider said. "His motive was so clear!"
Jones has had experience in televised dating in the past, having appeared on Steve Harvey's daytime talk show to partipate in a "makeover" dating challenge. It seems as if the Chicago businessman and self-proclaimed motivational speaker's dating prowess may serve as a problem as well.
"Will dates a lot of women," the source continued. "That's a problem throughout the season... There is no chemistry at all between Cynthia and Will. Anyone can see that. It is as plain as day."
Cynthia and Will have been dating all throughout their filming of the current season of RHOA, which has already wrapped. However, the insider has revealed that "they are totally not together anymore. Not even a little bit."