Georgia Senate Hopeful Herschel Walker Publicly Acknowledges Having Four Children After Report Revealing His Family Ties
Herschel Walker, A Critic of Absentee Fathers, Admits He Fathered Multiple Children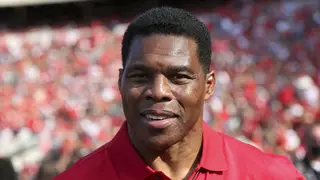 Republican Georgia Senate candidate Herschel Walker has admitted that he has four children – three more than the son that he has apparently publicly acknowledged – after a report in The Daily Beast was published this week revealing that he had one son that he was allegedly "estranged" from.

In a statement, he acknowledged all of his children and says that he has been a part of all of their lives.

"I have four children. Three sons and a daughter. They're not 'undisclosed'—they're my kids," Walker said in a statement, according to Clutchpoints.com. "I support them all and love them all. I've never denied my children, I confirmed this when I was appointed to the President's Council on Sports, Fitness and Nutrition, I just chose not to use them as props to win a political campaign. What parent would want their child involved in garbage, gutter politics like this?"

Since the initial Daily Beast article, Walker, whose son Christian, 23 is an outspoken conservative in his own right, acknowledged another boy, 13, and a daughter that  "he had in college."
The Daily Beast piece cited someone close to the child's family, public posts on social media and a court document in which Walker is named the father of the child. The website noted that one year after the 13 year old child was born, Walker was sued by the mother in order to obtain child support and a paternity declaration. The names of all of the children have been withheld to protect their privacy.

Walker has in the past said the "fatherless home is a major, major problem," but had not spoken about the child, only mentioning his current son Christian, who he had with his ex-wife Cindy DeAngelis Grossman. They divorced in 2002 after being married 19 years.

RELATED: Herschel Walker Is 'Mad' At Trump For 'Taking Credit' After His Election Win
But the campaign denied that the former Dallas Cowboys star running back and Heisman Trophy winner was a deadbeat dad. In responding to the Daily Beast report, it pushed back against that contention.

"Herschel had a child years ago when he wasn't married. He's supported the child and continues to do so. He's proud of his children. To suggest that Herschel is 'hiding' the child because he hasn't used him in his political campaign is offensive and absurd," Scott Paradise, Walker's campaign manager, said, according to a statement posted on The Hill. After that statement was released another one came out acknowledging all four of his offspring.
In a 2021 interview with Diamond and Silk, the conservative Black video bloggers, he took deadbeat dads to task saying, "If you have a child with a woman, even if you have to leave that woman, even if you have to leave that woman, you don't leave the child," Walker said during the interview. "You let that child know you trying to work it out. You're going to be respectful to her."

Walker, a Trump-supported candidate running for the U.S. Senate seat currently held by Democrat Rev. Raphael Warnock, has been in the center of controversy before for his conservative viewpoint on multiple topics including abortion, for which he support a no-exceptions ban; and gun control, for which he seemed to propose a governmental agency to monitor "young men that's looking at women that looking at social media."
BET.com has reached out to the Walker campaign for further comment.