Explainer: What's All The Drama Between Manhattan D.A. Alvin Bragg and Donald Trump?
The former president is throwing verbal flames at the prosecutor, who is investigating him for allegedly paying hush money to an adult film star.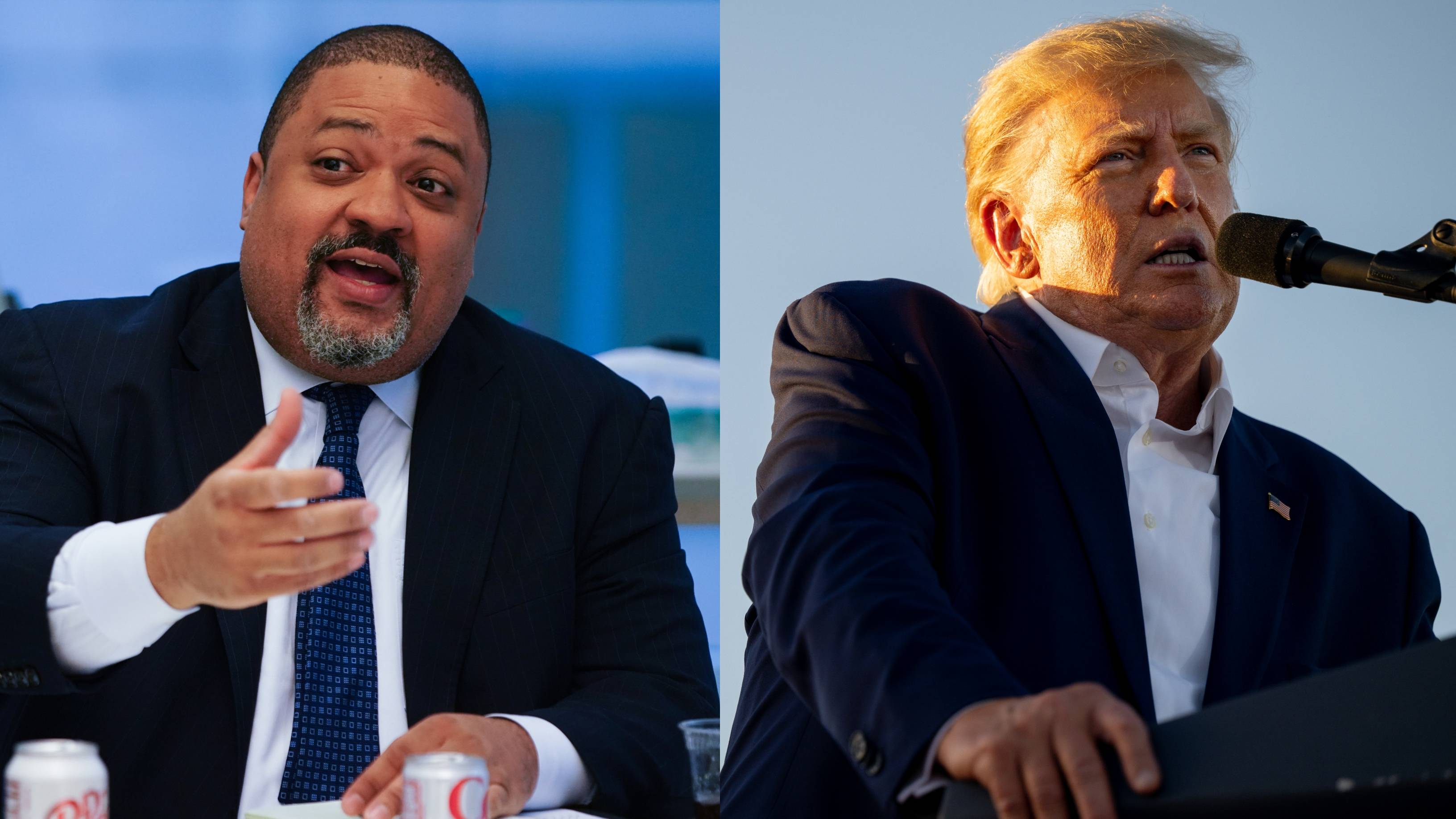 The New York grand jury investigating hush payments allegedly paid by former president Donald Trump to an adult entertainer has morphed into new drama. Although an arrest of Trump has not taken place, despite his prediction, tensions have risen in the last week – including fears of another Jan. 6-style riot in New York.

The case has fallen onto the desk of Manhattan District Attorney Alvin Bragg, who has already convicted Trump's company of tax fraud. He convened a new grand jury this year, which has been probing his dealings with adult entertainer Stormy Daniels. It's been alleged that Daniels received $130,000 in 2016 during Trump's bid to silence an affair from 2006, which he denies.
But now an indictment could be coming which would charge the former president with falsifying business records to cover the payment up as legal expenses, according to CBS News. Because of this, Bragg is faced with not only possible protests from Trump's supporters if he is indicted but also real physical threats. On Friday (Mar. 24), Bragg's office received a death threat letter that included a powdery substance, CBS New York reported.
Bragg's office said that specialists determined no threatening substance in the letter, but it read, "Alvin, I am going to kill you."

This came just days after Trump said that he expected to be arrested, warning on his Truth Social platform of "death and destruction," and called on his supporters to "protest" and "take our nation back." That prompted extra security in downtown Manhattan, anticipating an indictment, but such action has not yet occurred.
"What kind of person can charge another person…with a Crime, when it is known by all that NO Crime has been committed, & also known that potential death & destruction in such a false charge could be catastrophic for our Country?" Trump spewed on the platform.

Also, a picture, which has since been deleted, depicted Trump holding a baseball bat next to a photo of Bragg. This left fears that Trump could incite unrest like the riot at the U.S. Capitol building in early 2021, where five people died.

Trump, who announced last year that he is running for president in 2024, later called Bragg's office's probe a "witch hunt" and accused him of being "racist." Bragg became Manhattan's first-ever Black D.A. in 2022.
He also alleged that Bragg was backed by billionaire George Soros, who has long been a lightning rod for right-wing conspiracy theorists. In a separate Truth Social post, Trump said Bragg had received more than $1 million from Soros. But according to fact-checking website PolitiFact, Soros donated that amount to a political action committee called Color of Change in May 2021. That same month, the group endorsed Bragg.
Bragg's office has not commented on Trump's remarks, but they have drawn sharp criticism from several corners. House Minority Leader Hakeem Jeffries said publicly that Trump's postings are becoming increasingly dangerous.

"The twice-impeached former president's rhetoric is reckless, reprehensible and irresponsible. It's dangerous, and if he keeps it up, he's going to get someone killed," Jeffries told reporters at a Capitol Hill press conference, according to The Hill. "We've already seen the consequences of incitement from the former president. He is principally responsible for inciting the violent insurrection that happened on Jan. 6. But clearly, he has not learned his lesson."
On Monday (Mar. 27), local leaders gathered in Harlem to push back against Trump's rhetoric.
"These threats are dangerous, but they're not just dangerous, they're actually a crime," said New York City Councilmember Julie Menin.

In actuality, she's technically correct. Threatening a prosecutor is seen as a federal crime. In 2019, Scott Allan Smith, a Brooklyn, N.Y., man, was sentenced to five years in prison for sending threatening messages to a Missouri prosecutor who handled his earlier felony conviction in that state.

But it remains unclear whether or not Trump will be cited for any threat, especially as Bragg continues to work on the Stormy Daniels case. However, it appears that Trump supporters are trying to pressure Bragg as he does his job.

A Mar. 25 letter sent by Ohio Rep. Jim Jordan to Bragg's office accuses him of bowing to political pressure from the left to prosecute Trump. However, Bragg replied to Jordan, saying he would not let the Republicans get in the way of a legitimate federal investigation.
In a criticism of Trump's GOP backers, Jeffries added that they are only helping to fuel the fire.
"It's also very unfortunate that the extreme MAGA Republicans in the House of Representatives continue to back President Trump and his reckless, and his violent, and his hateful and his disgusting rhetoric," he said.