Man Accused of Brutally Killing Girlfriend, Daughter, Stabbing Son, Defends Self In Court, Yells At Jury
Ronnie Oneal III said that investigators coerced his son to turn against him, but the boy said flatly: "You stabbed me."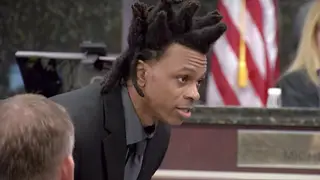 A Florida man acting as his own attorney at his death penalty trial, but exhibiting erratic behavior in his opening statement this week, even yelling at the jury, forced his 11-year-old son to describe how his father injured him while allegedly killing his mother and sister.
Ronnie Oneal III is accused of the 2018 shooting and fatal beating of his girlfriend, Kenyatta Barron, 33, also of killing their 9-year-old daughter, who had cerebral palsy, with a hatchet, and of stabbing their 8-year-old son, who survived. Prosecutors say Oneal then set their Tampa-area house on fire afterward.
The boy, now 11, testified in court via remote video, describing what happened to him and his family. But when cross examined by his father, who asked him "How did I hurt you?" He said: "You stabbed me." Then he described how his father doused, then ignited the house, the Associated Press reported.
Florida Assistant State Attorney Scott Harmon said in court when the boy escaped the burning home, "The first words that came out of this brave boy's mouth: 'My daddy killed my mommy.' "
But Oneal, 32, told jurors that investigators were trying to set him up and coerced his son to testify against him.
"The evidence is going to show that I love my children," Oneal said. "The evidence will not show you that my son witnessed me beat his mom to death, nor did he witness me shoot his mom. In fact, he didn't witness much at all."
Editor's Note: The following video may be disturbing to some viewers.

He also said that during the trial, jurors would hear "some of the most vicious, lying, fabricating, fictitious government you ever seen [sic].
"I look alone. But I am backed by a mighty God," Oneal said. But he also shouted at jurors at one point.
"The evidence is going to show that law enforcement tampered with evidence to meet their high burden of proof because originally it wasn't enough so [they] had to tamper with evidence," he yelled.
Oneal has two charges of first-degree premeditated murder, two charges of aggravated child abuse, a first-degree arson charge, and a charge of resisting an officer without violence, according to court documents.
Hillsborough County Sheriffs arrested Oneal in March 2018 and he pleaded not guilty the next month, according to local station WTSP. He was determined not competent to stand trial, but the state Department of Children and Families wrote a letter to a judge that he could be tried. That judge ruled in 2019 that he was competent to stand trial.
However, Oneal opted against having a lawyer, choosing instead to represent himself, understanding that he could face execution if he is convicted.
In jury selection, he even said that he believes in the death penalty, despite being the one who would be put to death. "When it comes to the death penalty, I just want to let you all know that, me personally, I am for it. If somebody has committed these crimes, they are worthy of death," Oneal said.