Timbaland And Swizz Beatz Settle $28M Triller Lawsuit
The 'Verzuz' co-creators sued Triller in August 2022 for a breach of contract.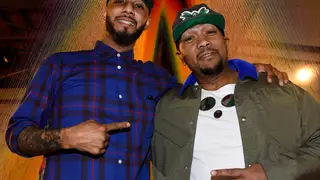 Timbaland and Swizz Beatz have come to an agreement against Triller over the sale of Verzuz.
According to The Hollywood Reporter, the settlement will increase the ownership stake in the parent company Triller Network for both producers after Ryan Kavanaugh's Proxima Media acquired a majority stake in Triller back in 2021.
Timbaland and Swizz sued Triller in August for a breach of contract and claimed that the streaming platform failed to make a $28 million payment to acquire the music-centered event.
BET.com previously reported that Triller made the first two scheduled payments but the company quickly defaulted on their agreement in January 2022, according to the complaint filed in L.A. County Superior court by attorneys from Singh Singh & Trauben.
Timbaland and Swizz Beatz then entered a settlement and payment agreement with Triller in February, the terms included that Triller would pay both parties $9 million by March 17, before moving to $500,000 payments per person on the first of the month for 10 months.
Triller again defaulted on the agreement and hadn't made any form of payment since, the complaint stated.
The Verzuz co-creators said in a statement that they're "glad to come to an amicable agreement with Triller and continue giving fans the music and community that they've come to know and love from the brand."
Notable Verzuz matchups include Omarion v. Mario, Mary Mary v. BeBe and CeCe Winans, Anthony Hamilton v. Musiq Soulchild, Big Daddy Kane v. Krs-One, Ashanti v. Keyshia Cole, Gladys Knight v. Patti LaBelle and more.