Lizzo Is 2022's Most Viewed Artist On TikTok
Millions of users learned her choreography for 'About Damn Time' and 'It's corn!' kid also became hugely viral trends on the app.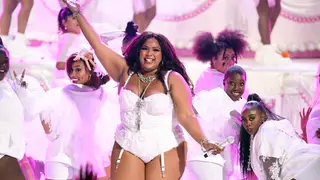 The queen of the social media app saw millions of users learn her choreography for "About Damn Time" and engage with her other songs and videos.
With 26 million TikTok followers, Lizzo was the No. 1 music artist on the platform, based on total video views. "About Damn Time" was the app's No. 4 top-trending song with Lizzo's TikTok video demonstrating the dance coming in at seventh place on the trending-videos ranking.
TikTok users also pushed Duke & Jones and Louis Theroux's "Jiggle Jiggle" and Tariq & The Gregory Brothers' "It's corn!" kid as top viral trends.
"We're honored to celebrate our global community who shaped this year's trends, shared new ideas, learned from one another, and turned their passions into careers and livelihoods throughout 2022," Vanessa Pappas, TikTok Chief Operating Officer, said in a release. "It's been truly inspiring to see over a billion people around the world show their creativity and come together to experience joy and find a sense of belonging on TikTok."
TikTok continues to empower and support the next generation of superstar artists, from breaking countless hit records and driving chart success to opening the door to emerging artists. Artists also use the platform to build engagement, connect with fans and discover new ones, launching foundations to future careers in tech, content creation and more.
Other elements of the report note that 10 out of 12 U.S. Number one hits on the Billboard Hot 100 were driven by major TikTok trending moments with emerging artists like Steve Lacy, Omar Apollo, and Muni Long using the platform to engage and grow their fanbases.
2022 also saw a major rise in popularity for music created specifically for TikTok. Female rap artists carved out their own space on the app, launching artists like GloRilla, Ice Spice, and Dreya Mac to national prominence.
View the full report here.