Kierra Sheard-Kelly Announces Arrival of Her Miracle Baby Girl
Khloé-Drew Valencia Kelly is the newest addition to the gospel superstar's family.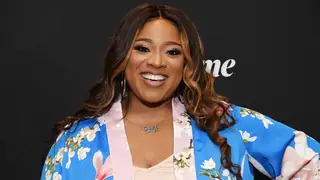 Kierra "KiKi" Sheard-Kelly and her husband, Jordan Kelly, just announced that they are the proud parents of a new bundle of joy.
The gospel singer captioned her Instagram photo, "We are blessed to introduce to you our gift from the Lord, Khloé-Drew Valencia Kelly."
She announced her pregnancy in May and opened up about her journey to motherhood when speaking with People. 
"I am so excited and blessed to have this opportunity to carry, my prayer, and watch our baby grow," said Sheard-Kelley. "I'm most excited about raising a game changer, loving someone so deep, and having that same impact my mother had on me. I think I'll be raising one of my best friends!"
The road to parenthood hasn't been easy. The evangelist also shared that she experienced two miscarriages that she says took her "near death's doors."
Through it all, her faith remained at the forefront. "God still showed me that He's in charge and to keep believing. I've been fearful and have worried, but God has sent me constant reminders and ways of affirmation. My husband's faith and declarations have stood in place of my lack many times," she said.
Now, the first-time mom is rejoicing while she and her husband embrace their sweet baby girl. Her caption continued, "Words can't describe our journey and how God blessed us with our miracle child. After two miscarriages and life-altering challenges, God gave us a gift to love and bring Him glory with our testimony. Thanks to so many of you who are congratulating us and covering us with genuine prayer and love."
Sheard-Kelley and her husband were married in December 2020 and will soon celebrate three years of marriage. She shared in another post the joy of becoming a mother and how her parents had a great impact on her life. She ended the post with a request for fans to pre-order her new book, "Kiki Finds Her Voice."
"I'm sure many of us pray for our children, that God will protect them and fill their hearts with the love of God. Here is a safe book filled with faith, beautiful colors, and an inspiring story of mine as a young girl."