#BlackLivesMatter: 17 Ways NBA, NFL Players and Other Athletes Show Support For Police Reform
From the NBA, WNBA, NFL, MLB and every league in between, sports stars have banned together in various acts of protest and civil disobedience.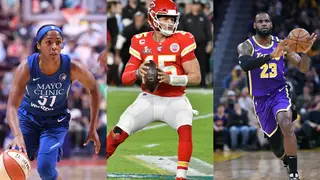 In light of the Black Lives Matter movement, star athletes are using their massive platforms to get involved and keep the momentum going around non-violent protests and acts of civil disobedience supporting equal and fair treatment by law enforcement and other groups in power.
From the NBA's new Black Lives Matter jerseys and the WNBA's Black Lives Matter  warm-up attire to MLB players collectively deciding to kneel during the national anthem, sports teams and organizations, both in America and abroad, are using their voices to ensure justice is heard and served.
Here is a look at all the ways in which we have seen pro sports support Black lives.
Los Angeles Clippers' Paul George devoted his entire press conference to call for justice forBreonna Taylor following his post game scrimmage on July 22, the NBA player used his time to express his condolences the Lousiville EMT's death.

According to Front Office Sports, NFL players will wear decals with the initials of victims who have been killed by police brutality in 2020 as a way to honor those who have died and support the Black Lives Matter movement. The league, which has not been supportive of those players who have chosen to kneel as a means of support or protest, is currently working with NFL Players Association to gather a list of names for each athlete as the start of the season is supposed to begin on September 10.  

George Floyd, Breonna Taylor, Eric Garner, Michael Brown, and Tamir Rice are just a few names that are expected to be honored during the tribute.

Major League Baseball Manager Gabe Kapler of the San Francisco Giants along with several of his players took a knee at the start of the National Anthem before an exhibition game against the Oakland Athletics on Monday (July 20).

"I wanted them to know that I wasn't pleased with the way our country has handled police brutality. I told them I wanted to amplify the voices of the Black community and marginalized communities as well," Kapler told The Athletic. "I told them that I wanted to use my platform to demonstrate my dissatisfaction with ... clear systemic racism in our country."

The MLB announced on June 10 that it would be donating over $1 million to the NAACP Legal Defense and Education Fund, the Equal Justice Initiative, the Color Of Change and the Jackie Robinson Foundation.

Tamika Palmer, whose daughter Breonna Taylor was killed by Louisville Police during a botched narcotics bust, thanked players from the NBA and WNBA for continuing to keep Breonna's name alive as the fight for justice continues. On July 8, Kyrie Irving also shed light on the Breonna Taylor case in a virtual panel discussion called "#SayHerName: Breonna Taylor," for the PlayersTV digital and broadcast network. 

"Everyone raising their voices for justice are what keeps this family going each day," Palmer told TMZ. "What is being done by the NBA and the WNBA is amazing. Now, it's time for the attorney general to listen, to charge everyone responsible for Bree's murder and to get overdue justice."

On June 15, players from Major League Baseball unveiled a 60 seconds video called "One team. One dream. Be the change." The effort is to help spark change and urge for justice to be served in support of the Black Lives Matter movement.

"We will wait no longer. We will make our voices louder. For all of us who can and for all of those who could not," the players said. "8:46 is enough time to lift a knee, to do what's right, to do something, to say something, to acknowledge the pain of the Black community." 

Officials from the National Football Association recently announced that the unofficial Black National Anthem "Lift Every Voice And Sing," will replace "The Star-Spangled Banner" at the start of each game during the first week of the NFL's 2020 season starting on Sept. 10. We're waiting to see how many players kneel during that performance. 

NFL Commissioner Roger Goodell admits that the league got it wrong in the past when it came to issues of race and social justice. "We, the National Football League, condemn racism and the systematic oppression of Black people. We, the National Football League admit we were wrong for not listening to NFL players earlier," Goodell said in a viral tweet. 

Despite the controversy around kneeling during the National Anthem, several NFL players have banned together for a Black Lives Matter video. 

"How many times, do we need to ask you to listen to your players?" and "What will it take for one of us to be murdered by police brutality?" are two powerful questions asked directly to the league that open up the one-minute video that was an immediate response to the horrific killing of George Floyd.

According to ESPN, the NBA and WNBA have confirmed that a "Black Lives Matter" mural will be painted on all three courts the teams will use while playing at Walt Disney World Resort in Orlando, Florida. Several high profile athletes in both leagues have participated in Black Lives Matter events around the country.

Sports Illustrated unveiled the new BLM mural on July 21

Chris Paul, president of the National Basketball Players Association, who also plays for the Oklahoma City Thunder told The Undefeated that the union is working with the NBA to allow players to wear "personalized social justice, social cause or charity messages," on the backs of their jerseys. This is likely to happen at the re-start of the 2019-20 season.

Carmelo Anthony told Good Morning America the message on his jersey will either be "Peace or Freedom," as for Chris Paul "Equality" is the message that he has chosen.

Dwyane Wade also called for justice for Breonna Taylor in a black and white t-shirt during TNT's episode of The Arena on July 21.

While in a heated back and forth with their part-owner and United States Sen. Kelly Loeffler, the WNBA's Atlanta Dream have successfully kept the spotlight on Breonna Taylor and even now sport a message demanding justice on the back of their jerseys.

"In this togetHER! #sayhername," the pro team captions in an Instagram post.

Angels pitcher Keynan Middleton took a knee and raised his fist during the playing of the National Anthem before a  Los Angeles' exhibition baseball game on Monday (July 20) against the San Diego Padres. In a statement about his decision to take this public stand Middleton said, "As a Black an in this country, it is my obligation to want to better the future for generations to come." 

The Premier Lacrosse League announced on July 21 that during their Championship series, players will be able to wear BLM shooting shirts, jersey patches and leg sleeves. 

During the MLS is Back Tournament in Orlando, all club soccer captains wore special Black Lives Matter armbands in support of the movement.

Three-time tennis Grand-Slam champion Andy Murray took a knee during all of his Battle of the Brits matches in June to stand with the BLM movement. 

In a virtual press conference, Murray said, "Like sexism, the same applies to racism – my feelings are the same. Some people see it as being a radical thing, I personally don't. I just feel everybody should be treated the same, no matter your sex, colour of your skin, background, religion."