'Flavor of Love' Star Deelishis' Niece, 19, Killed In Michigan State Shooting; Family Calls Her An 'Angel'
Arielle Anderson was said by her aunt to be in class in the same building where the shooting started, taking the lives of three students.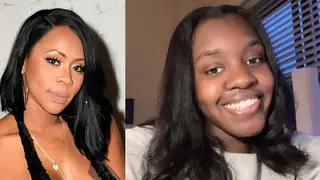 A suburban Detroit student was one of the three victims of a mass shooting Monday night at Michigan State University, where five other victims were wounded.

According to the Detroit Free Press, Arielle Anderson, 19, an MSU junior, was shot and killed when Anthony McRae began to walk through the East Lansing, Mich., campus firing a weapon, starting his rampage in Berkey Hall on the north side and making his way to the student center where another student was killed.

McRae, 43, was tracked by police to a location in nearby Lansing, Mich., where he died of a self-inflicted gunshot wound as officers approached. Officials said he has no affiliation with the university.

According to the Instagram page of "Flavor of Love" reality television star Chandra "Deelishis" Davis, Anderson was her niece, and she said in a post that she was in class in the same building where the shooting took place and had been missing. She was later confirmed to be dead.
Anderson was a 2021 graduate of Grosse Pointe North high school and wanted to be a pediatrician, according to her family.
Her grandmother, April Davis, described her to the Detroit Free Press as "kind, loving, caring, compassionate, driven", and "very family oriented."

Her aunt, Kinella Spivey, told the Free Press that Andreson was involved in volunteer programs like helping senior citizens. "This is so unbelievable," she said. "When does it stop? Really? I mean, it's one after the other after the other. This school has been safe for so many years."

Authorities say McRae opened fire just after 8:00 p.m., prompting university police to issue a shelter-in-place warning to the school. Reports of gunshots across the campus continued as the student body of about 50,000 students waited as long as four hours for an all-clear.

MSU police officials said that McRae began his shooting rampage near Berkey Hall on the north side of campus, where two students were found dead, and several others were injured. Soon after, reports came in of shots fired at the school's Student Union, a campus center where students congregate and is open daily until midnight. One other student was found dead there.


In addition to Anderson, the two other fatalities in the shooting were identified as Brian Fraser, 20, from Grosse Pointe, Mich., also a sophomore, and Alexandria Vernier, 20, a junior from Clawson, Mich. The names of the five wounded victims have not yet been released.
"Alex was and is incredibly loved by everyone," Clawson Schools superintendent Billy Shellenbarger said in a statement, according to the Free Press. "She was a tremendous student, athlete, leader and exemplified kindness every day of her life!"
In a statement released Tuesday by the corporate communications department at Comerica Bank, where Anderson's mother Dawana Davis Worked, the family called her an "angel."
"We lost our precious daughter, granddaughter, sister, niece, cousin, and friend, Arielle Anderson. She means the world to us. As much as we loved her, she loved us and others even more. She was passionate about helping her friends and family, assisting children and serving people.
"Driven by her aspiration to tend to the health and welfare of others as a surgeon, she was working diligently to graduate from Michigan State University early to achieve her goals as quickly as possible.
"As an Angel here on Earth, Arielle was sweet and loving with an infectious smile that was very contagious.
"We are absolutely devastated by this heinous act of violence upon her and many other innocent victims.
"While we appreciate the outpouring of the love, support, and prayers we have received thus far, we are grieving and hope that you respect our family's wishes to remain private at this time."

Grosse Pointe Schools superintendent Jon Dean expressed the grief many communities throughout the state feel.
"It's just a senseless, unspeakable tragedy that's impacting the Michigan State community, impacting the Grosse Pointe community and it's just, it's horrific," Dean told the Free Press.

Meanwhile, officials say a probe into the motive behind the shooting continues. At an early Tuesday press conference, Chris Rozman, deputy chief of MSU campus police, said they are piecing together what would have triggered McRae.
"We have absolutely no idea what the motive was," said Rozman. "There are still crime scenes that are being processed, and we still are in the process of putting together the pieces to try to understand what happened."

McRae's family remains shocked and confused as well.

"This just don't seem real, that he would be able to do anything like this," his brother Michael McRae, who lives in Delaware, told the Detroit Free Press. "I am still trying to process this whole thing."
Editor's Note: This story has been updated.