Celebrating 50 Years of Hip Hop: The Pioneering Albums and Songs of the 2020s
Even though we're only three years in, the hip hop offerings of the 2020s have been lit!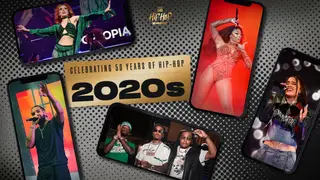 The 2020s have ushered in an era of change, with hip hop artists leading the charge, offering insightful reflections on societal shifts. From the evolution of the digital age to TikTok's growth as a phenomenon, hip hop remains a vital cultural touchstone. As we honor the National Day of Hip Hop and it's 50th anniversary this year, let's dive into some of the albums and songs that have defined the 2020s so far!
"Shoot For The Stars, Aim For The Moon" - Pop Smoke (2020)

Pivotal Facts: Released posthumously, the album spotlighted Brooklyn's drill movement on a global scale.
Artist Milestone: Pop Smoke's enduring influence reimagined the soundscape of the modern New York hip hop movement.

"Whole Lotta Red" - Playboi Carti (2020)

Pivotal Facts: It broke barriers by embracing punk aesthetics and pioneering sounds.
Artist Milestone: Playboi Carti's audacious creativity broadened the possibilities within hip hop.

"Man on the Moon III: The Chosen" - Kid Cudi (2020)

Pivotal Facts: Finalizing the "Man on the Moon" trilogy, Kid Cudi's introspection on mental health was powerful.
Artist Milestone: Cudi reinforced his position as a refreshing beacon of vulnerability in music.

"Good News" - Megan Thee Stallion (2020)

Pivotal Facts: A dynamic debut with empowering narratives and a touch of good old, Southern hip hop.
Artist Milestone: Megan Thee Stallion's rise signaled a powerful resurgence for women in hip hop.

"It Was Good Until It Wasn't" - Kehlani (2020)

Pivotal Facts: A seamless fusion of R&B and hip hop, Kehlani's musings on life's complexities were profound.
Artist Milestone: Kehlani's ability to nuance her craft solidified her reputation in the music industry.

"Certified Lover Boy" - Drake (2021)

Pivotal Facts: A masterful blend of rap and R&B, it underscored Drake's superior standing in music.
Artist Milestone: Drake's sustained chart dominance solidified his legendary status.

"Nightmare Vacation" - Rico Nasty (2020)

Pivotal Facts: Rico's debut studio album encapsulated her punk-infused style and fierce individuality.
Artist Milestone: Rico Nasty cemented her place as a trailblazing figure in hip hop's evolving landscape with this release.

"Culture III" - Migos (2021)

Pivotal Facts: Migos delivered an homage to their stamp on the trap genre and broader hip hop culture.
Artist Milestone: The 'Culture' series reaffirmed Migos' central position in modern hip hop.

"Punk" - Young Thug (2021)

Pivotal Facts: Marking a shift towards introspective content while maintaining Young Thug's unique style.
Artist Milestone: "Punk" showcased Young Thug's evolution and adaptability.

"Planet Her" - Doja Cat (2021)

Pivotal Facts: This album, a medley of genres, emphasized Doja Cat's multifaceted talents.
Artist Milestone: Doja Cat's innovative approach positioned her as a leading force in the new era of hip hop.
The 2020s, while still unfolding, are shaping up to be another transformative period for hip hop, with artists continuously pushing the envelope. As we commemorate five decades of the genre, it's exhilarating to consider what the future holds.