Lizzo Pledges $500K To Fight For 'Abortion Rights'
The singer will donate some of the proceeds from her upcoming tour to Planned Parenthood and the National Network of Abortion Funds.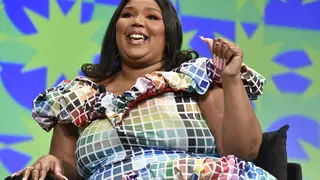 Lizzo has absolutely no problem speaking her mind, so it's no surprise she took to social media to express her dismay at the Supreme Court's recent ruling that overturned Roe vs. Wade, ending the right to abortion for millions of women all across America.
After the SCOTUS ruling was announced on Friday, the "Truth Hurts" singer said she would be donating some of the proceeds from her upcoming tour to organizations working to make abortion accessible to people who no longer have access.
"I'm pledging $500k from my upcoming tour to Planned Parenthood," Lizzo tweeted. "Live Nation agreed to match — to make it 1 MILLION dollars."
In addition to supporting Planned Parenthood, Lizzo is also donating to the National Network of Abortion Funds, which helps people pay for necessary services like obtaining an abortion or traveling to a state where they can safely and legally obtain one.
"The most important thing is action & loud voices. @PPFA @AbortionFunds & organizations like them — will need funding to continue offering services to people who are most harmed by this ban," she added.
While people across the country mourned the end of federally-protected abortion access, Lizzo reminded her followers about the impact this ruling with have on Black women.
"Black women & women of color have historically had disproportionately less access to family planning resources — this is a great loss but not a new one," she said.
In addition to matching Lizzo's $500,000 donation, concert promoter Live Nation has also pledged to cover employees' travel expenses for those who need "to access women's health care services." The company also announced that they'd cover bail expenses for employees who are arrested for peacefully protesting the loss of abortion rights.