Trump Slammed For Tweeting He's A Bigger Star Than Anyone At The 'Lowest Rated Oscars In HISTORY'
Host Jimmy Kimmel responded: "Thanks, lowest rated President in HISTORY"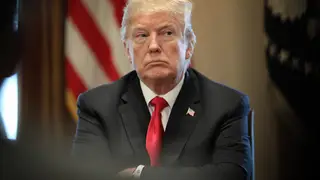 After the Oscars on Sunday, it was revealed the viewership of the show fell 19% compared to the previous year. Although there could be many reasons why ratings dropped this year, President Donald Trump tweeted the show did poorly because there are no stars anymore, except for himself. 
According to Nielsen, the views for the Oscars fell to 26.5 million viewers. Although that may appear to be a steep fall, audiences for all award shows have been down this year.
According to Trump, the lack of stars resulted in the award show's low ratings

Although the country is currently in the middle of a possible nuclear showdown with Russia and North Korea, the president somehow found time to check in to the Oscars ratings

Trump's "joke" was eviscerated by people on Twitter

Oscars host Jimmy Kimmel clapped back with his own joke