Ne-Yo Declared Legal Father to His Youngest Kids
The singer sought the attendant legal rights to his two sons.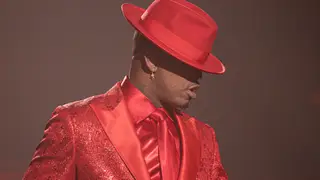 A court determined that singer Ne-Yo is the legal father to his two youngest children.
The 43-year-old singer, whose real name is Shaffer Smith, asked the court to determine the parentage of Braiden and Brixton, sons he fathered with his ex-girlfriend Sade Bagnerise, according to TMZ.
Ne-Yo wished for the court to allow his sons to collect inheritance from him despite never having married Bagnerise. The court will also allow the boys to take the surname "Smith."
Officially, Ne-Yo is now father to seven children: he shares daughter Madilyn Grace, 12, and son Mason, 11, with ex-fiancé Monyetta Shaw, and Shaffer Chimere, Jr., 7, Roman Alexander-Raj, 5, and Isabella Rose, 2, with ex-wife Crystal Renay Smith.
Crystal and Ne-Yo finalized their divorce in January; she filed in August 2022, claiming that he fathered a child with Bagnerise during their marriage.
"8 years of unknowingly sharing my life and husband with numerous of women who sell their bodies to him unprotected…every last one of them!" Renae wrote in a now-deleted Instagram post the month she filed for divorce.