Masika Kalysha Claims Her Drama With Fetty Wap Saved Lives
Huh? This is a strange theory.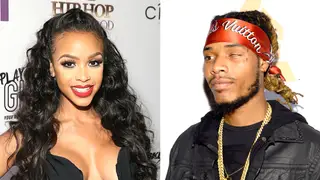 According to Masika Kalysha, one good thing came out of her relationship with Fetty Wap — besides their daughter, Khari, of course.
The Love & Hip-Hop star said in a new interview that all the drama and heartbreak she faced after the "Trap Queen" rapper denied paternity of their baby girl actually helped save other women with relationship drama from suicide and abortion. Huh?
In a new interview with Bossip, Masika explains, "I can't even express to you the messages I've received from women all over the world — from New Zealand, to Africa, to Compton, you name it. There are women coming to me saying they were contemplating suicide until they saw my story, or they were going to get an abortion until they saw my story — thanking me for showing a public face that's actually being honest, because so many women go through this."
She continues, "In my industry, it's taboo. You don't talk about it. So many women leave and come back with a whole kid and you don't know what happened because they're ashamed of it. I just decided to live it out loud."
As for Fetty, she has some pretty harsh words. "He hasn't seen her since her two week checkup. The issue I believe he's having is he's used to all the women in his life doing what he says when he says, and sitting and waiting for him to come and do whatever — and I don't," she says. "If he says something and doesn't stick to it, I get mad, and he gets mad that I'm mad. So I feel like his priorities aren't in the right place, just him being young. There's absolutely nothing in the world that should keep a parent away from their child. I think what he does is to try to make me upset, but in the long run she's the one that's affected."
Get the full story behind the couple's drama with BET Breaks, above.