Gabrielle Union And Dwyane Wade Celebrate Daughter Zaya's 14th Birthday
See who else wished the teenager a happy birthday!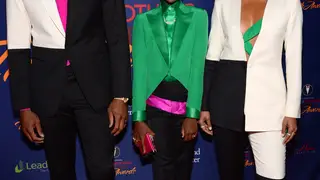 Happy birthday, Zaya Wade! 
Celebrating her 14th birthday on Saturday (May 29) Dwyane Wade and Gabrielle Union-Wade celebrated their teenager on her special day.  In an Instagram post, Union posted a photo of Zaya posing in a colorful striped cut-out sweater. 
"Happy Birthday @zayawade...14!!!! We [love] you so much and we are so proud of you! Keep shining my [love]," she captioned the post.  
Zaya's younger sister Kaavia James also shared a photo slide show of her and big sister to wish her a happy birthday. 
"Whatchu got juices & berries in there? [Love you] Zaya Wade & your hair. Happy Birthday!!!"
Zaya's older brother, Zaire Wade, shared a tribute birthday post for his little sister on his Instagram page noting that he will always be there to love and protect her through thick and thin.
"You got a brother in me 5L no matter what and Ima make sure as you get older you understand that… I love you kid, happy g day Zaya Wade. Continue to inspire & preserve thru all! We got your back on this side Zaya."