New Music Monday: Popcaan & Drake, Quavo, French Montana Start Your Week With A Fresh Batch Of New Tunes
Tune in every Monday to catch songs you need to add to your rotation.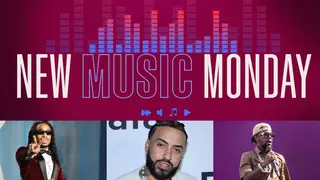 It's hard keeping up with all the new music released each week. Just when you've fallen in love with a certain song, album, or artist, something else drops. It's a fun time to be a music fan, sure, but also tricky.
Rest easy though, as BET has you covered with our weekly New Music Mondays post, featuring some of the latest artists, sounds, and trends in hip-hop, r&b, Afrobeat, house and more. We present an eclectic mix of established
You'll find a familiar (and not-so-familiar) array of artists and emerging music. So, without further ado, here are ten new records that you should kick off your week with — led by Popcaan and Drake, Quavo and French Montana.
Popcaan is back in the mix with his new single "We Can Done" and tapped previous collaborator Drake to make an appearance on the song. The track has Drizzy reaching back into his dancehall bag with the video for it featuring a party vibe in Turks and Caicos. The single is from the Jamaican vocalist's upcoming album, Great Is He.
It's been a very difficult past few months for Quavo as his nephew and fellow Migos member Takeoff was tragically killed in early November. Now, the Atlanta rapper is reflecting about life without his Phew with "WITHOUT YOU" – a new song that is a heartfelt remembrance of Takeoff's life. The visual for it features Quavo sitting sadly, smoking what appears to be a blunt, and rocking gently in a chair as the song plays.
Additionally, Queen Naija, NBA YoungBoy and Ice Spice released new songs and videos. See our list below.
Popcaan (feat. Drake): "We Can Done"

Quavo: "WITHOUT YOU"

French Montana (feat. Smooky MarGielaa, A$AP Rocky, DJ Drama): "Chit Chat"

Queen Naija: "Let's Talk About It"

NBA YoungBoy: "Black"

Ice Spice: "Out Of Time"

Fresco Trey (feat. Brezay): "Pull Up"

2KBABY (feat. charlieonnafriday): "Don't Love Me Now"

DUSTY LOCANE & Kajun Waters (feat. Fergie Baby): "SAILS"

Bonus Heat #UpAndComing: Check out Pesh Milli's brand new song/video "Spicy".