Fantasia Launches New Swimwear Line To Honor Late Grandmother
The singer's new business venture will feature swimwear, nightgowns, and candles.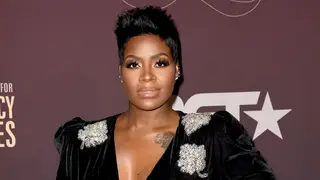 Grammy Award-winning singer Fantasia is launching a new company that honors her late grandmother Apostle Addie Collins who passed away in 2015.
Fantasia shared the news on her Instagram, writing, "Do you remember when swimwear was sexy, yet classy? I want to bring that vibe back with an exclusive Nightgowns,swimwear and Beautiful Candle launch coming soon @addiesplacellc! In Honor of my Grandmother."
In the post, the singer is styled in a gorgeous off-white swimsuit with a headwrap and floating in a pool. The suit features a large accent on one shoulder and a spaghetti strap on the other.
In another post, the 39-year-old star reflects, writing, "I'm sitting back admiring the fact I have true Independence in Having my own Label, running several successful companies, watching my Artists and Team flourish in their gifts, bouncing back from people writing me off and over looking me, rising from the bottom and healthier than I've ever been, my career is catapulting, I have 4 beautiful children, 2 grandkids and happily married to a king," she wrote.
Fantasia has created an IG page for the business venture, writing in the bio that the shop will feature "Fashion, Consignment Items worn by @tasiasword, Candles, Wine and Cosmetics/Beauty Products!"
On December 25, Fantasia will star in the Blitz Bazawule-directed musical adaptation of The Color Purple, a reboot of the 1985 Stephen Spielberg-directed drama.