BET Awards 2023: 5 Artists Who Transcended Boundaries to Earn 'Video of the Year' Award
These visionaries brought viewers some of the most iconic visuals.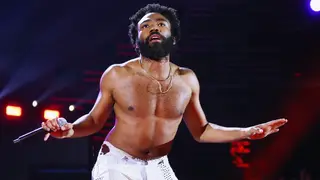 The BET Awards have witnessed the rise of countless iconic music videos. Among them, a select few have ascended to legendary status, forever etched in our collective memory. These five luminous victors of the coveted "Video of the Year" crown stand as pillars of creativity and innovation, each weaving a distinct tapestry of sonic and visual marvels.
Ahead of the BET Awards 2023, join us as we look back at some of the most legendary music videos to take the prestigious honor. And don't forget to tune into the 23rd annual event airing live on Sunday, June 25th at 8 p.m. ET.
Outkast — "Ms. Jackson"

Big Boi and André 3000 or the Atlanta-based group Outkast took the first ever "Video of the Year" for the visual for their icon record "Ms. Jackson." The video was directed by F. Gary Gray, whose behind projects like Ice Cube's "It Was a Good Day. "

The duo would again take home the title at the 2004 ceremony for their single "Hey Ya!"

Kanye West — "Jesus Walks"

Grammy Award-winning rapper Kanye West released a total of three music videos for his 2004 single "Jesus Walks."  A year later, he took home the "Video of the Year" crown, beating out Amerie for "1 Thing," Snoop Dogg's "Drop It Like It's Hot," and many more.

Childish Gambino — "This is America"

Childish Gambino debuted the Hiro Murai-directed music video for  "This is America" in the fall of 2022 to critical acclaim. The rapper received widespread praise for his artistic approach to addressing the gun violence crisis in America.

Silk Sonic (Bruno Mars & Anderson .Paak) - "Smokin Out The Window"

Musical super duo Silk Sonic, which comprises of Bruno Mars and Anderson .Paak took home the "Video of the Year" award at the 2022 ceremony for the visual for their hit single "Smokin' out the Window." Mars directed the project with John Esparza. It's been viewed over 156 million times on YouTube.

Drake

Canadian-born rap star Drake rose above a packed group of nominees when he won the "Video of the Year" award at the 2013 ceremony. Fellow nominees included A$AP Rocky for "F**kin' Problem," Rihanna's "Diamonds," Miguel's "Adorn," and many more.

The 2023 BET Awards premieres Sunday, June 25 at 8 pm ET/PT on BET and BET Her.