Oscars 2022: Here's 5 Black Stars We'd Love to Host This Year's Ceremony
The 94th awards installment will be the first since 2018 to have an MC.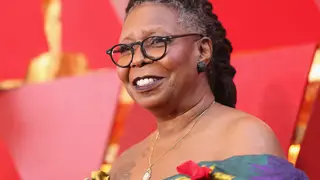 Announced Tuesday morning (Jan. 11) during ABC's Television Critics Association virtual press tour by Craig Erwich, president of Hulu Originals & ABC Entertainment, the news did not hint at who the candidate would be.
"It might be me," Erwich joked, before cosigning the Oscars executive producer Will Packer.
"Will really has his pulse on popular culture and entertainment," Erwich said. "I know he has a lot in store and we'll have more details to share soon."
Jimmy Kimmel was the last host twice over, having pulled off the gig back in 2017 and 2018, respectively. Before him, the Academy Awards saw hosts that included the likes of Chris Rock (2016), Neil Patrick Harris (2015), Ellen DeGeneres (2014), Seth MacFarlane (2013), Billy Crystal (2012), and a combination of James Franco and Anne Hathaway (2011).
Just because an official host hasn't been announced, doesn't mean one can't ponder.
Here are the five Black stars that we'd love to see host the Oscars.
---
Chlöe and Halle
Chlöe and Halle are brilliant host options of the Academy Awards for a number of reasons.
First, they're supremely talented and can easily hit the musical numbers and comedic bits throughout the show. Secondly, Halle, who is starring as Princess Ariel in the live adaptation of Disney's The Little Mermaid, is ripe for a breakout star moment. What better way than showcasing her array of skills than this year's Oscars? Last, but certainly not least, the sister duo would raise the ratings with their numerous costume changes, showcasing why they crush everything they do.
Whoopi Goldberg
Having Whoopi Goldberg as this year's host almost makes too much sense.

This generation may know her as the "host with the clapbacks" from ABC's The View, but the 66-year-old GETO Award-winning acting icon is one of the few people who can carry a show all on their own. As the only Black woman to have achieved the distinction, Whoopi's inclusion as the host of the 2022 Oscars is a homecoming of sorts that could make the show a welcomed trending topic to social media.
Yara Shahidi
At 21, Yara Shahidi has done more than her fair share of leading lady projects, and her youthful exuberance is exactly why the Grown-ish star deserves to host the Oscars. It's no secret that Shahidi can shake things up with her mere presence on stage or in the field. Besides being a Harvard student, Time Magazine's "Most Influential Teen" has the respect and adulation of a young audience that loves her work and would be a welcomed boost in the arm for the Academy Award celebration.
Quinta Brunson
Arguably, Quinta Brunson is the new Queen of Comedy on television.
Having evolved from being a viral meme on the internet and adding all of the buzz while at Buzzfeed to co-starring and writing on HBO Max's A Black Lady Sketch Show, Brunson has put in consistent work that a hosting gig with the Oscars would serve as breakout moment.
Now, with her mockumentary-style series, Abbott Elementary, trending each week and making Brunson into a household name — having the hottest name in comedy on that Oscars stage would be something we'd all love to see.
Issa Rae
The Academy Awards have always ushered in big surprises and there's no better way to commemorate a bittersweet one than to have Issa Rae host this year's ceremony.

The end of the multi-hyphenate's iconic Insecure series meant the beginning of a new journey for Rae and her growing list of accomplishments. With her padded resume, the Inglewood O.G. has already proven that she can do it all: acting, directing, comedy, and tastemaking.

Impressioning upon Hollywood that "rooting for everybody Black" is for everybody can mean a positive step forward for an industry looking to make healthy changes.
---
The Oscars will have their host reveal ready when the ceremony airs this March 27 on ABC.