Mother Demands Murder Trial Of Store Station Owner's Son Who 'Initiated' Chase Of Black Teen Shot In Back
Rich Chow has been charged with murder but his son Andy has not been charged.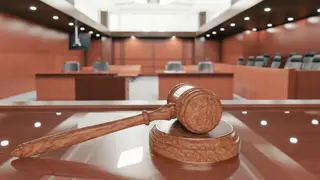 A mother in South Carolina is demanding that a convenience store owner's son be charged with murder for "initiating the chase" of her 14-year-old son who was shot in the back after being falsely accused" of stealing water, Law and Crime reports.
On Saturday (June 18), Nikki Cole said that Andy Chow, son of Rick Chow, the owner of the Shell gas station who fatally shot her son Cyrus Carmack-Belton over Memorial Day weekend, should also be charged because he accused her son of shoplifting.
"My son Cyrus Monroe Carmack-Belton was murdered May 28, 2023. Rick Chow racially profiled and falsely accused Cyrus of stealing. Rick Chow and his son Andy Chow chased my 14 yr. old son off the gas station property and down Springtree Dr. shooting him in the back," a Facebook post on Cole's page read. "Rick Chow was arrested but his son remains free. (Andy Chow initiated the chase of my beloved son),"
Cole also called on supporters to contact Byron Gipson, the Solicitor of the Fifth Circuit to demand that Andy Chow be arrested and charged with murder.
"[D]emand that RickChow's son ANDY CHOW is also charged in the murder of Cyrus Monroe Carmack-Belton."
Sheriff Leon Lott of Richland County described the shooting as "disturbing" and told reporters that Carmack-Belton "did not shoplift anything." Also, he stated that law enforcement had "no evidence that he stole anything whatsoever" and that Carmack-Belton "was not even on the property of the store"
"The son of the owner of the convenience store gave chase. The father who owns the convenience store joined in the chase. He was armed with a pistol," Lott said.
Authorities alleged that Rick Chow shot Carmack-Belton in the back at a nearby apartment complex after chasing him down after Andy Chow claimed that the teenager was armed with a gun.
"At some point, the [suspect's] son said that he had a gun — that the victim had a gun — and we did recover a gun that was close to his body,". "At that point the father shot the young man in the back. He was not laying on the ground. He did not have his hands up."
Lott also said that Chow was an alleged victim of shoplifting in the past and that his family had also been attacked. In 2015 and 2018, Chow reportedly fired shots at shoplifters but was never charged with a crime.
"There's been many instances there, where this store owner has confronted people that's been shoplifting," Lott said. "There's been assaults on his family, too. He has not been charged in any of these other cases because they did not rise to the level where he should have been charged."
Rick Chow is currently charged in Carmack-Belton's murder and remains in police custody. If convicted, he faces 30 years to life in prison.