Travis Scott Recreates Beatles' 'Abbey Road' Cover With Security Team
A member of his security team carried the "Utopia" briefcase.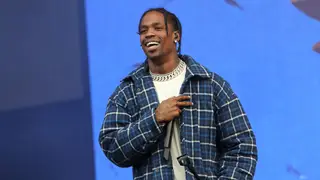 While in London on Thursday (June 15), Travis Scott lined up with members of his security team to emulate The Beatles' famous 1969 album Abbey Road's cover.
In a photo posted to the Twitter of one of his fan accounts, the rapper is seen walking across the famed crosswalk with one member of his entourage holding the "Utopia" briefcase. It's another photo promoting his continuously teased and highly-anticipated forthcoming album.
Previously, Scott has posed with the briefcase in tow. He was recently spotted with it in behind-the-scenes photos from SZA's SOS Tour. He also brought it with him to the Cannes Film Festival last month.
Last month, Scott told Pin-Up magazine the meaning behind Utopia, stating: "Utopia is something that people feel is so far-fetched and out of reach, some perfect state of mind. There are people who achieve utopia every day. They may not be the richest people with the dopest cribs, but it's a utopia wherever they are, and that's the most you can have."
While the album is set to drop sometime this month, no official release date for it has been confirmed.